Nashville is home to a wide array of Mountain Bike Trails.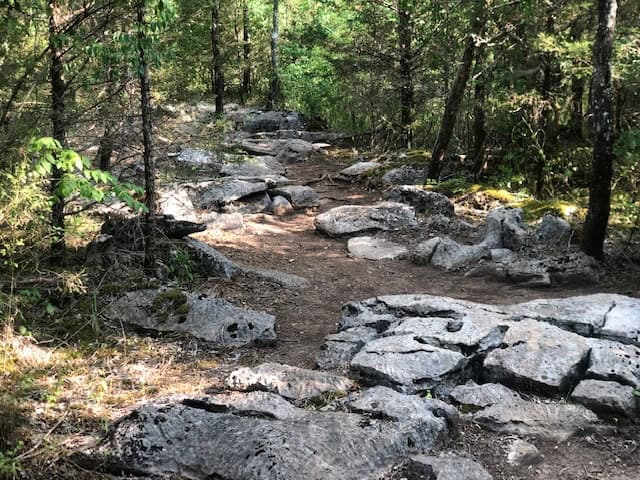 Ranging from fast and flowy to short and technical, there's a trail to suit just about any rider looking to visit this beautiful city.
Listed from closest to farthest with descriptions and recommendations, here are the Best Mountain Bike Trails in Nashville: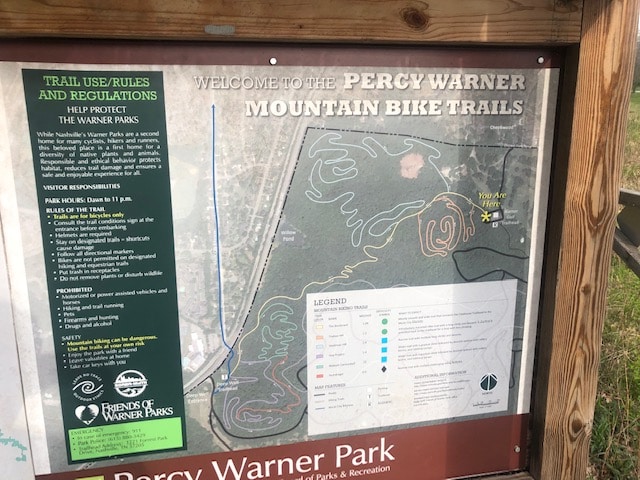 If you're looking for a full day of fun, look no further than the Percy Warner Mountain Bike Trail.
Nestled in one of the more affluent neighborhoods of the city, the Percy Warner Mountain Bike Trail maintains its positions as The Best Mountain Bike Trail in Nashville.
Though it's considered one of the more advanced bike trails, this trail can also be suitable for beginners. You will be able to ride at your own pace, so don't worry about walking or missing out on the ride. I was a beginner when I first visited this trail, and was able to experience the whole track at my own pace.
This is one of the closest Mountain Bike Trails and remains a fan favorite for the following reasons:
A steady degree of challenge for every level of rider
Fun, Fast and Flowy sections
Enough adventure for a full day of riding.
You will have a lot of fun at this trail, even if you're a seasoned rider. If you're looking to put that full-suspension to good use, this is the trail you're looking for. Percy Warner Mountain Bike Trail has some of the biggest jumps of any of Nashville's bike trails. I safely avoided a few drops as well on my first visit there.
Take a quick trip to enjoy this amazing trail in such a beautiful part of the city.
For an introduction to Mountain Biking or an easy ride with family, the Bells Bend Mountain Bike Trail is a great place to ride your bike near Nashville.
This trail system was built for Beginners and is the perfect place to take the kids or work on your skills on the bike.
With this being a Beginner trail, the trail system is relatively short and does not offer that much in the way of elevation change and features. For the experienced rider, this may be a deal breaker, but if you're beginner, this Mountain Bike Trail is definitely worth the short trip.
Just to make sure you know what to expect, this Bike Trail is mostly an open field and does not offer much shade. Make sure you avoid this trail on particularly sunny days. As well, this trail is was built to host more than just bikers, including hikers and dogs.
If you plan a visit to Bells Bend, it is recommended that Biking be an option, and not the main reason to visit. But don't count this trail out just yet. The over 5 mile stretch is home to some unique wildlife and also runs by a nearby river.
One of the first Mountain Bike Trails in Nashville, Hamilton Creek Mountain Bike Trail offers 11+ miles of Singletrack for the experienced rider.
Less than 20 minutes from the Airport, this trail is recommended for those looking to hone their technical skills on a Mountain Bike. Although there are a few open and flowy section, this trail mainly focuses on a series of technical climbs and descents.
And did I mention the drops! But don't worry, these are all avoidable and you can always walk your bike through any section.
This trail is rated Intermediate to Advanced due to the technical challenges throughout the trail. Hamilton Creek Mountain Bike Trail is also known to be very rough. Due to the way the land erodes, the trail is scattered with rock and roots, making the ride consistently rough.
Another challenge of the trail is how curvy and winding it can be. If you're not familiar with the trail, it may be hard to maintain speed in between all the technical challenges.
Regardless, Hamilton Creek Mountain Bike Trail is still a great bike trail to visit near Nashville.
If you're looking for a relatively easy step up from the beginner trails on the list, head over to Cane Ridge Mountain Bike trail less than 30 minutes from the city.
There is a section of skills loop at the start of the trail, perfect for the beginner looking to practice the necessary skills for the trail. Do not expect much in the way of elevation change, but there are plenty of short uphill climbs and downhill runs.
All in all, this is a smooth and flowy trail, good for maintaining speed and having a fun overall experience.
Since there is not much elevation change, the challenge of the trail will be maintaining speed. Like most of the other trails on the list, you will be sharing the trail with Hikers as well. But there are areas section off for Mountain Bikers only.
The trail is made up of 3 separate section, making one continuous loop.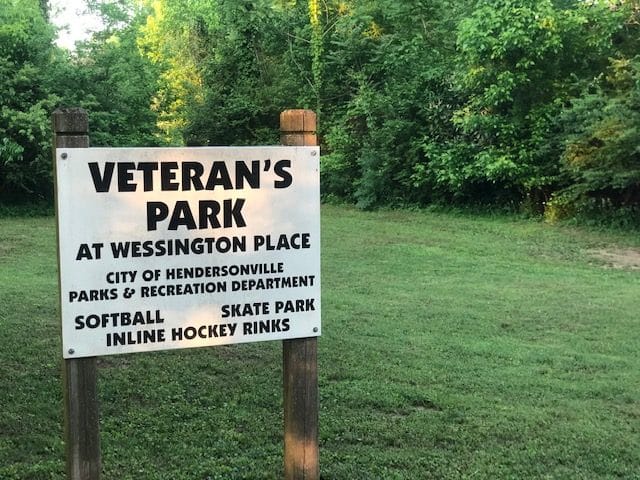 One of the shortest Mountain Bike Trails near Nashville, Wessington Warrior Trail is just 2 miles of Singletrack.
The trail has two separate trail heads, and it could be a challenge figuring out how to get there. To reach each trail head, park at Veterans Park by the hockey ring, cross the short green bridge and follow the trail until you reach the road behind the park. Cross the crosswalk and head right along the bridge until you see the trail-heads on the left. See the picture below for reference.
This is a great track for beginners, as this also connects to the Hendersonville Greenway, a scenic tour alongside the river. This is still a fairly new section of Trail and there are plans for expansion, however, do not expect to stay the entire day.
When I visited the trail last, it was in serious need of maintenance. Regardless, I was able to ride through most of the trail and could definitely see the appeal.
Like most of Nashville's Bike trails, Warrior Trail follows a river on one side of the track. The rest of the trail leads through a lush area of trees that make it hard to believe you're in such a populated area.
This trail is a great stop if you would like to enjoy the park or even take a trip on an Electric Bicycle. To make sure you're up to speed on Tennessee's Electric Bike Laws, check out THIS ARTICLE.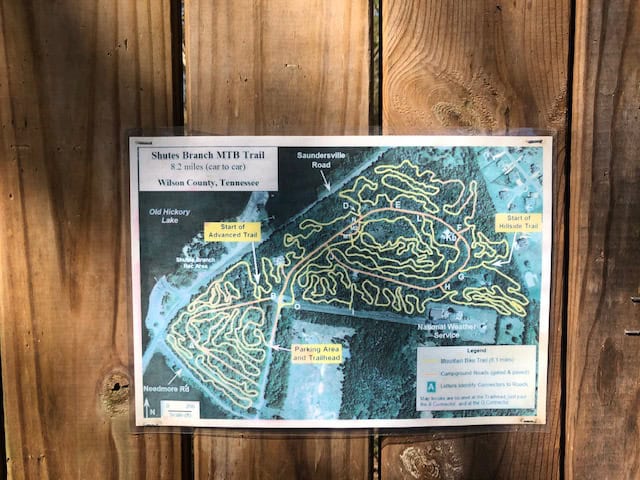 Just 30 minutes outside of Nashville, lies one of the most well-kept Mountain Bike Trail's in Middle Tennessee.
Schutes Branch Mountain Bike Trail is known for being well maintained and fairly challenging.
The first 2.5 miles is the perfect mix of flow and tech, fun for the beginner or veteran. The rest of the trail gets rather technical, featuring the infamous White Rock. I found myself walking a few sections my first run through, and would recommend this trail for anyone looking to test their skills.
Your efforts on the technical sections are definitely rewarded. After conquering the the rocks, you are lead through beautiful forest and past great views.
This location was converted from an old camp ground to a Mountain Bike Park, so each individual trail is easily accessed by the many offshoots connecting to the old camp road.
Be prepared for rock gardens, technical climbs, and some quick switchbacks on this trail.
For a beginner rider, one of the most fun Mountain Bike Trails near Nashville is the Jones Mill Mountain Bike Trail.
This trail system offers around 6.5 miles of Singletrack and enough features to keep riders of any level entertained for hours. Although this trail is well suited for the beginner, it will definitely require your focus to navigate the some of the more technical terrain. There are quite a few switchbacks and the roots, rock, and loose dirt will make sure your attention is required.
With just a few short climbs, you are not only rewarded by the nice views around the lake, but also a moderate downhill section that's super fun and easy to loop.
I recommend this trail for the beginner, as it is definitely worth the 30-minute drive from the city.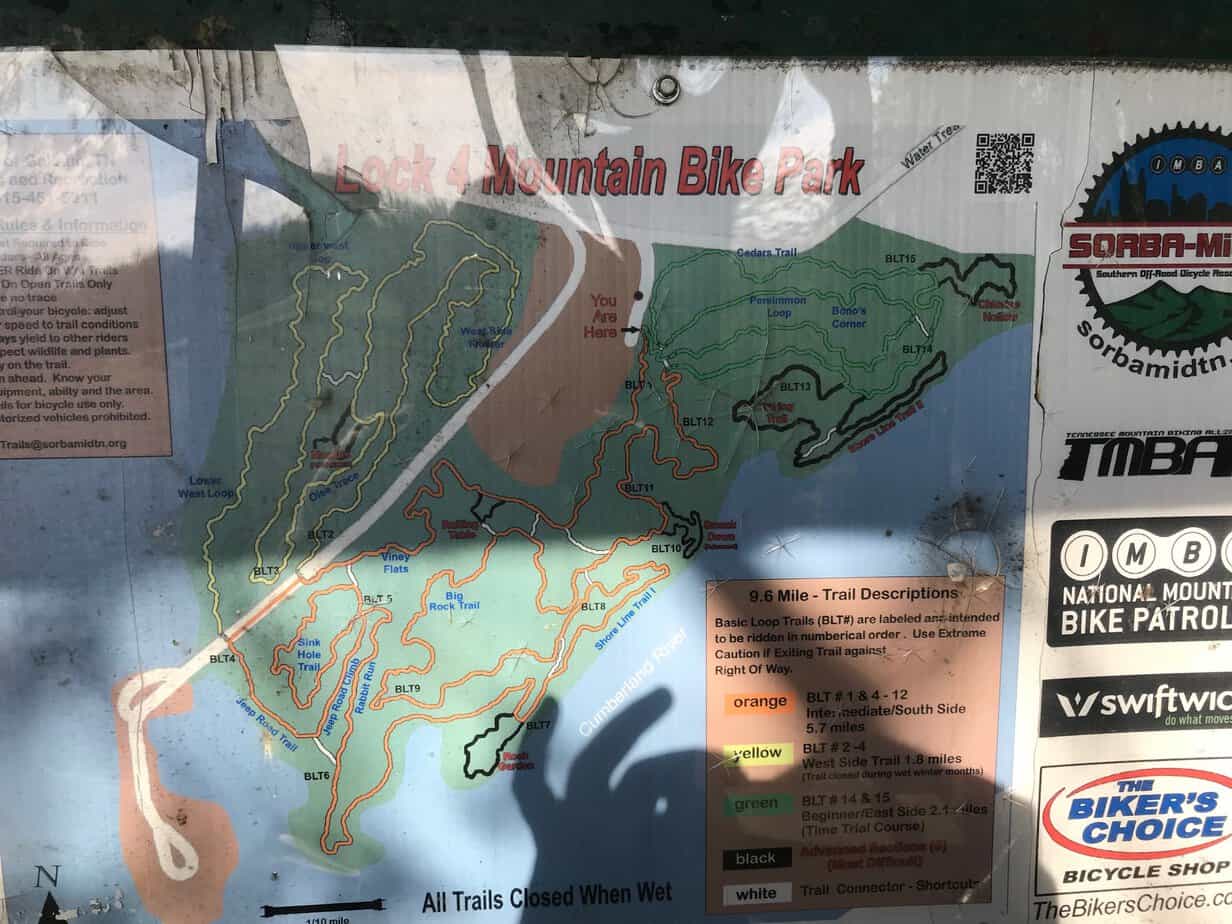 One of the most well-rounded trails near Nashville, the Lock 4 Mountain Bike trail features over 8 miles of singletrack.
With a little of everything from Dirt Jumps to Rock Gardens, this has been voted as one of the best Mountain Bike trails near Nashville.
The Trail has been updated with new signage and is usually well-maintained. This would be the best destination if you are looking for a full day of riding. The singletrack is very fast and flowy, with several offshoots of track for the more experienced riders.
For an added plus, this trail is right next to a lake and is full of great scenery and wildlife.
There is a main loop intended for beginners, but there are a few sections for more experienced riders. The trail has a few fast sections with jumps and drops, and is a perfect trail to improve your cardio.
Perfect for those of us who like to camp as well, Montgomery Bell State Park has over 20 miles of single track and makes for the perfect weekend trip near Nashville.
This park is also popular for camping and hosts the appropriate amenities for an extended stay. With over 10 years of development, this trail system is sectioned off into 5 separate trails, offering challenges for all skill levels.
Another one on the list for Beginners, the Trails at Fontanel aims to provide a good Beginner experience for Mountain Bikers.
This Mountain Bike Trail is also popular with Hikers, so be prepared to pass people on bike or foot here.
Depending on where you are located and if you are concerned with the hour drive, Chickasaw Trace Mountain Bike Trails are a great place to visit near Nashville.
This park offers over 8.5 miles of singletrack and just like most of the other parks on the list, this trail system will follow the natural contours of the nearby river. For the experienced riders, expect to complete a few laps around the course for the real challenge.
This trail has a more technical last 2 miles, but feel free to exit and enter individual sections at the many offshoots from the trail.