With Winter Season creeping up faster and faster, you may be worried that your days of riding are coming to a close – at least for the Winter Season.
And this should come as no surprise, most of us have been watching the daylight hours grow shorter and shorter as we approach Thanksgiving.
But don't get too hurried to prep your Mountain Bike for Winter Storage.
Believe it or not, plenty of riders continue to tear up the trail, even when we're deep into the colder months.
Whether their taking advantage of the limited snowfall or avoiding snow all-together, there are still opportunities to get out on two wheels.
If you've ever Mountain Biked during the Winter, or even if you consider yourself a "Snowbird", you're probably already familiar with the usual places people visit to escape the cold.
California, Arizona, and Utah all come to mind when I think of great Mountain Bike Destinations to hit in the Winter.
However, there are plenty of hidden gems when it comes to Winter Mountain Biking.
If you're looking to get off the beaten path, or even avoid the usual crowds, we created a list of the 6 Best Winter Mountain Biking Destinations for you.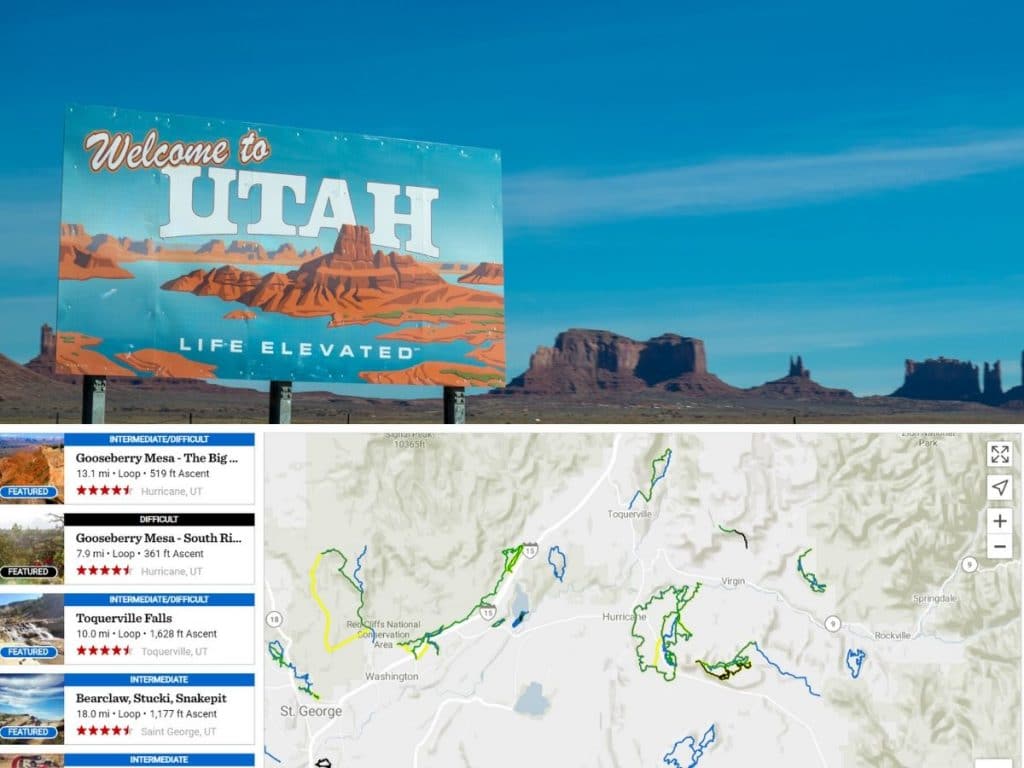 Hurricane Utah/St. George Utah
Often overshadowed by the popular city of Moab, Hurricane and St George Utah should definitely be on your radar as solid Winter Mountain Bike Destinations.
Although Hurricane is almost 5 hours away from Moab, you can find some of the same style of riding, without all the usual crowds.
During the winter months, you can expect temperatures in the low to mid 50's, with almost no snowfall.
And being situated at the southwestern corner of Utah, St George and Hurricane are some of the warmest cities in Utah.
So if you're craving the slickrock of Moab, but are afraid it's too cold or crowded to travel to, Hurricane may be the answer.
And don't think you're missing out on the wonders of Moab.
Hurricane and St George Utah both offer plenty of wonders of their own, including Zion National Park and over 80 miles of singletrack to conquer.
For a rewarding challenge, hit up the J.E.M. trails for 7 miles of intermediate riding.
If you're looking to soak in the views from Zion National Park, head over to the Gooseberry and Wire Mesa trail systems.
Regardless of your skill level or preference, Hurricane and St George have plenty of trails to offer.
And if you're wanting to relax with some non-mountain bike related activities, check out the Winter 4X4 Jamboree or visit either of the two national parks.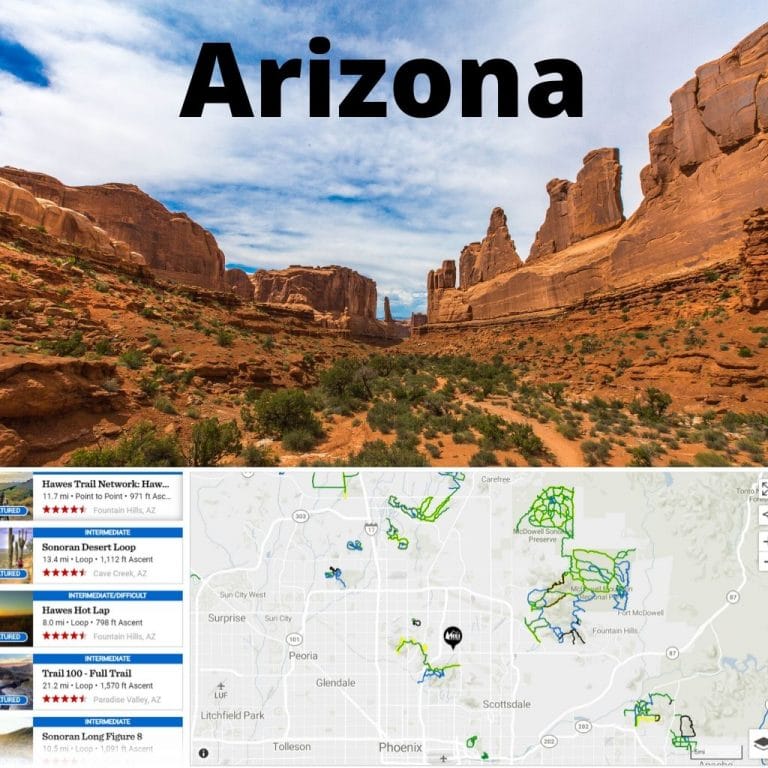 Northern Scottsdale Arizona
It's no secret that Arizona is a great Winter Mountain Bike Destination.
With awesome locations like Sedona and Phoenix, loads of Mountain Bikers flock to the state to wait out the cold and snowy months.
But there is one Winter Mountain Bike Destination few talk about, and that is Scottsdale Arizona. Specifically, northern Scottsdale.
Located just 30 minutes from Phoenix and around 180 miles from the Mexican Border, northern Scottsdale offers some of the most favorable weather conditions during the winter months.
With temperatures averaging around 50 degrees Fahrenheit and reaching up to the 70's, Mountain Bikers are able to ride the trails virtually all year.
And barring any rare circumstance, you can pretty much guarantee that snow and rain won't be a problem.
With such favorable conditions, Arizona – specially places like Phoenix and Sedona, has seen a huge influx of Mountain Bikers and "snowbirds" in the last few years.
While this popularity has been great for the development of the Mountain Bike scene and culture, the crowds and prices could be a deterrent for some.
This is why we recommend north Scottsdale, as there is still plenty to offer riders of all skill levels, while being just 30 short minutes from over 600 miles of Mountain Bike trails.
If you're up for a bit of a challenge, check out the rocky McDowell Sonoran Preserve Gateway Trail. This 3.6-mile loop is popular with hikers, but the colder months could see less visitors.
After a successful day of riding, treat yourself to mouthwatering steak at Mastro's Steakhouse.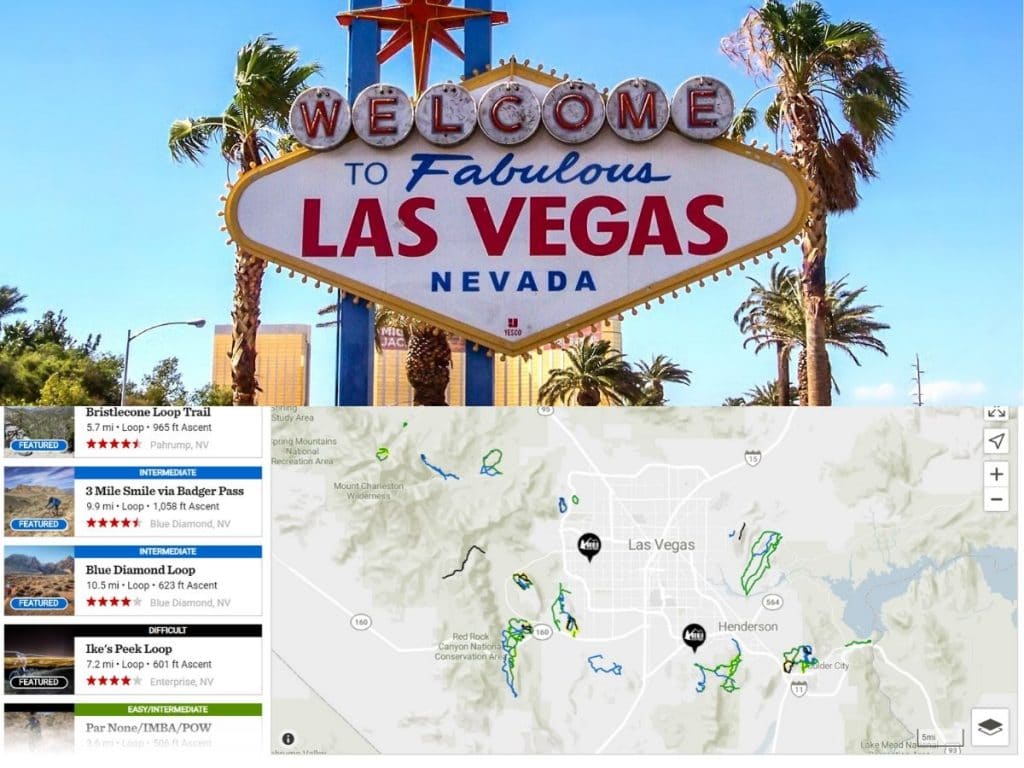 Las Vegas is one of the most popular destinations in the United States, however, most people don't know that it's also a growing Winter Mountain Bike Destination.
Wedged between the southern borders of Nevada, this area of the state is home to over 450 miles of Mountain Bike trails.
Las Vegas is another one of the winter destinations that offers favorable weather conditions year-round, with temperatures hovering between the high 30s and low 60s during its coldest months.
And just like Arizona, there is very little chance that snow and rain will interrupt your trip.
In addition to the bright lights and gambling, Sin City is home to some gnarly Downhill and XC trails that could keep you entertained all week long.
Rent a bike from one of the local shops or even sign up for a local bike tour.
While options are limited during winter months, Las Vegas is still a solid choice.
January is the coldest month during winter, so head down earlier in the season for temperatures in the 60's and sunny days.
Plus, you can never run out of things to do in Las Vegas…although, you may run out of money.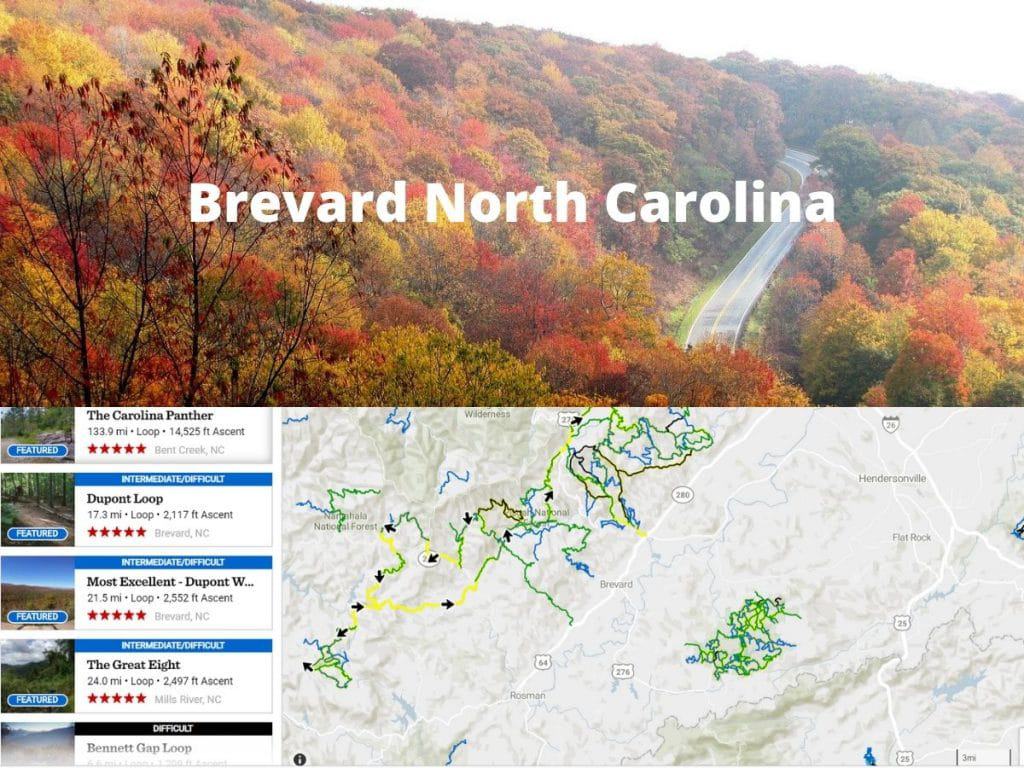 Taking a break from all the south and Midwest states, this next Winter Mountain Biking Destination may come as a surprise.
Located just 45 minutes away from Asheville, Brevard North Carolina is a solid Mountain Bike Destination, regardless of the weather.
Fortunately, Brevard maintains its usual charm in the Winter, when temperatures rarely dip below the mid 30's.
In fact, REI reports weather in the 50's for most of the winter season.
Just prepare for a little snow. Although Brevard only sees a total of 7 inches of snow per year, it is still a possibility depending on when you plan your trip.
If you can brave the slightly colder temperatures, Brevard offers over 100 miles of Mountain Bike Trail.
And it's a solid alternative to the rock and desert terrain you expect with most winter destinations.
If you decide to make the trip to Brevard, expect soft dirt and rocky/rooted trails. Even better than the Midwest, most trails will wind you through lush forest and vegetation, a slightly better environment than the other spots mentioned.
And if weather ever impedes your ability to ride, you are just a few miles away from the beautiful Pisgah National Forest and the iconic Blue Ridge Parkway.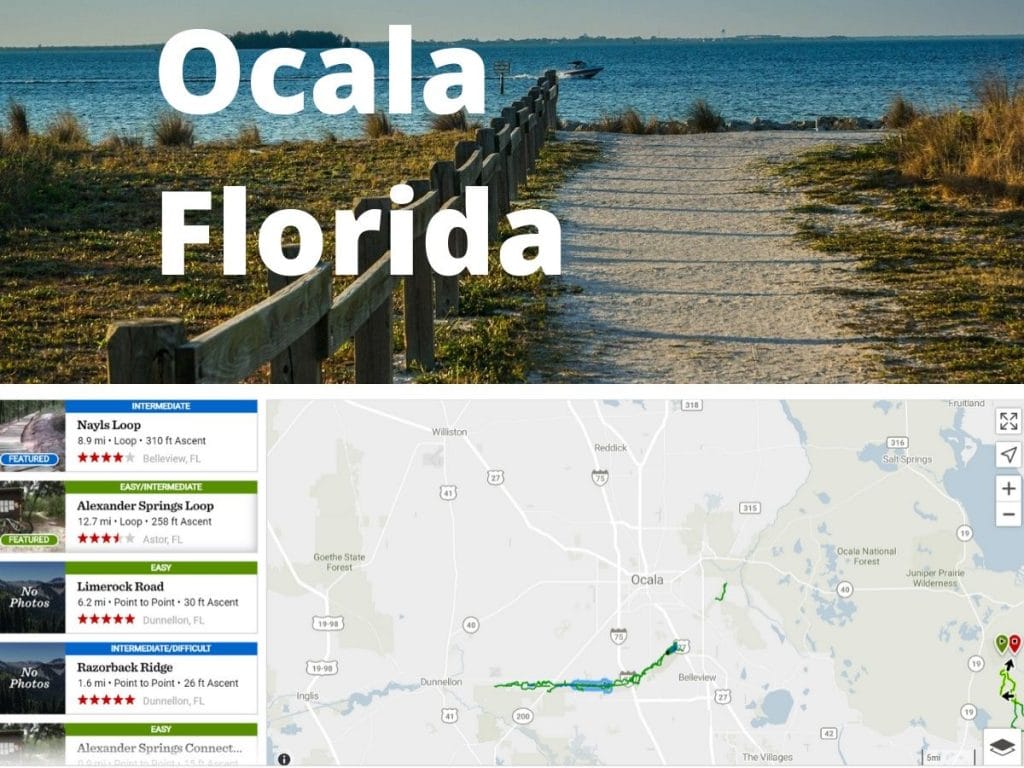 This next spot is really popular with snowbirds, but most wouldn't imagine it as a Mountain Bike Destination.
Making everyone's winter destination list, Florida is home to a growing destination for Mountain Bikers, especially during the Winter.
I'm talking about Ocala Florida.
While Ocala offers nowhere near the number of trails as some of our other winter destinations, it still has more than enough to keep you challenged and entertained during your winter getaway.
Coming in just shy of 80 miles of trail spread over 30 separate trail systems, Ocala has the soft dirt and rooty terrain, in addition to the warmer temperatures.
With zero threat of snow and temperature reaching as high as 70 degrees, you won't miss a day of riding with your friends and family due to weather.
The fact that you'll be more inclined to go outside works out great, as you can spend some of your time visiting the local national or state park.
And if you find yourself in need of the perfect post ride meal, hit up the Ipanema Brazilian Steakhouse.
For the extra adventurous, book a kayak tour. Or, take on the Vortex trail.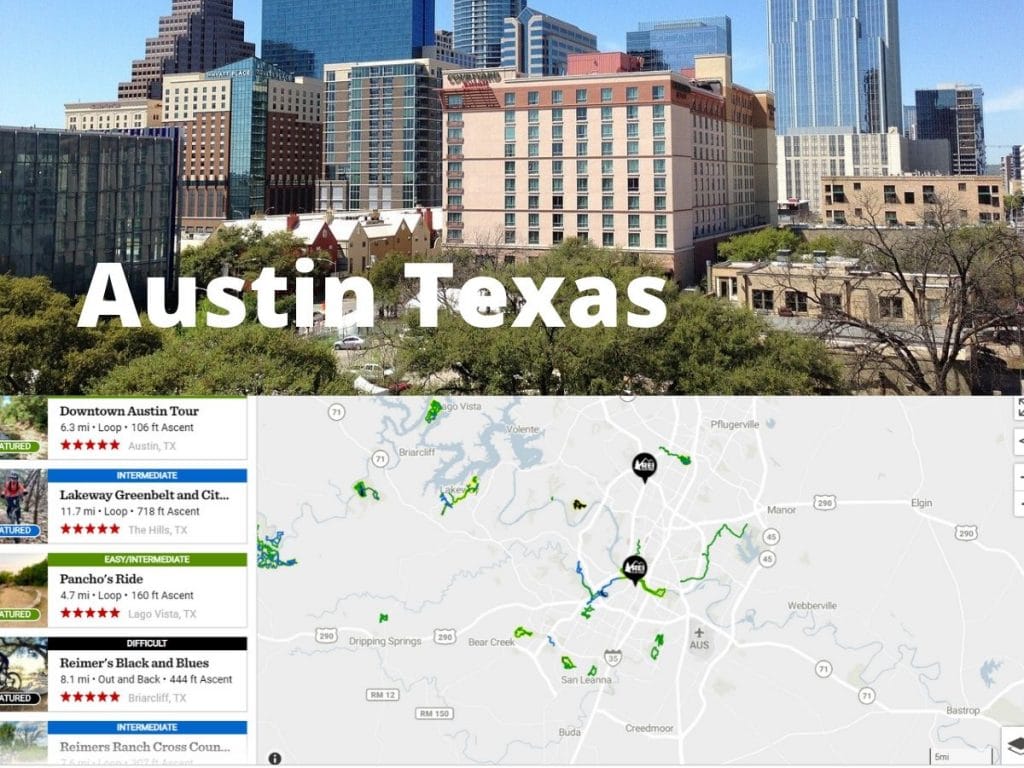 Coming in as the last underrated Winter Mountain Bike Destination on the list, Austin Texas is another one to look out for in the years to come.
I'm not going to lie – Austin is still working to add mileage to their current list of trail systems.
At just over 54 miles of trail, you are greeted by beautiful open views and limestone filled trails.
Although the trails may seem limited considering the others on the list, Austin has some notable rides like; Reimers Black and Blues and Walnut Creek Metro Park.
And you can rest assured that the weather will be fine.
With temperatures floating between the mid 40's and 60's, you can expect to see plenty of sun and warmth.
And if you're worried about non-Mountain Bike related activities, check out the other winter events in Austin such as; The Austin Trail of Lights and the Winter Tree Fest.
In conclusion, there are plenty of underrated Winter Mountain Bike Destinations that could have made the list.
In the years to come, we will continue to add to the list and keep you updated with the latest, so you're always updated on where to go when it's cold.
Stay warm and keep riding!