When you get your first Mountain Bike, there are a few things you'll end up doing to make it your own.
Most of the time, this will come down to the important components that affect how you fit and ride on your bike.
In addition to your handlebar grips, Mountain Bike pedals are one of the most important components on your bike.
This is especially true for new riders.
Which is a reason you see a lot of new Mountain Bikes being sold without pedals.
This article will provide a list of the best Mountain Bike pedals for beginners, as well as some tips to help you make the right choice.
The best Mountain Bike pedals for beginners would be a high-quality pair of Flat Pedals. This would not only provide a more "forgiving" experience for new riders, but it will also help them develop the correct skills and habits needed to excel on the trail.
Here is an at-a-glance look at some of our favorite Mountain Bike pedals for beginners. If you're interested in a little more information on each pedal as well as why they were chosen, we got further in-depth below.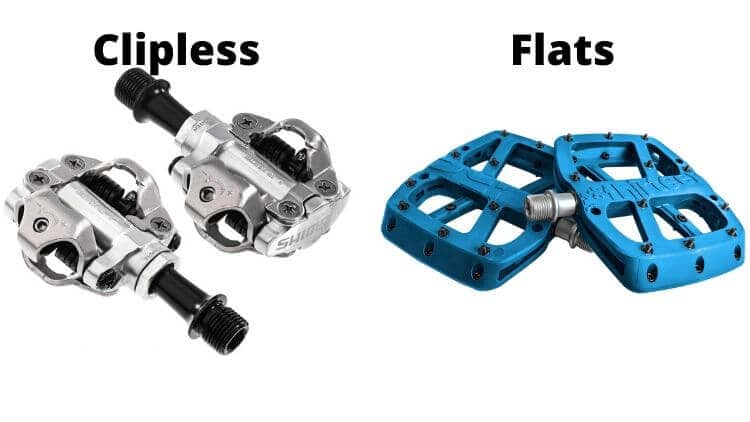 When it comes to Mountain Bike pedals, you essentially have two options: Flats/Platform pedals and Clipless pedals.
Flat pedals are the standard style of pedal most are familiar with.
They consist of a flat platform and several pins that provide traction.
This is the type of pedal you see on BMX bikes and just about every bike sold at a department store.
Once they're on the bike, there's really not too much to them.
You can wear them with just about any shoe and they are easy to get used to.
Clipless pedals are a more advanced style of pedal, meant for increasing efficiency and weight reduction.
They involve a pedal and shoe combo that work to keep you more secure on your bike.
Not only are they more expensive and involving, but they can also be a little intimidating for a new rider.
Why are flat MTB pedals better for a beginner?
Although riders have a choice between Flat and Clipless pedals, there are a few reasons we recommend Flat Pedals for beginner riders.
To see if this appeals to you, we break down three of the main benefits of Flat Pedals.
Flats improve your skills on the bike
When you're riding with Clipless pedals, it is easy to manipulate the bike since your feet are basically attached to it.
This often translates to bad riding habits like pushing and pulling on the pedals to maneuver the bike.
Flat pedals promote the correct riding style because you have to balance your weight on the bike to get it to move how you want.
If you start pulling on your pedals or transferring your weight incorrectly, your feet will fall off the pedals.
Instead of pushing on your bike with your pedals, flats require that you improve your balance and coordination on the bike.
This pays back in dividends when you start riding more challenging trails, that force you to better handle your bike.
Flats are more forgiving for beginner riders
Flats aren't just great for getting more skilled on your bike, they are also a lot more forgiving for newer riders.
When you're "clipped in", it is not as easy to set a foot down in case things get sketchy.
Clipless pedals can be intimidating for beginner riders because you have to "detach" your foot from the pedal to step off the bike.
With flat pedals, you can quickly remove your foot from the pedal in case of an emergency.
And it is just as easy to get your foot back on the pedal when its time.
They don't require special shoes
Finally, you can use Flat pedals with just about any type of shoe – although a skate shoe or dedicated MTB shoe is recommended.
This is a huge plus for new riders because it can help you save more money at the start.
Once you start getting better on the bike and you develop your preferences, you can easily upgrade to a pair of Clipless pedals.
How to choose the right MTB Pedal
Before we get started on the list of our recommended pedals for beginners, lets first go over some of the things to look for when you're buying Mountain Bike pedals.
When it comes to any purchase, you should always have a budget in mind – this is true with Mountain Bike pedals as well, especially if you're a beginner.
This is why I recommend that you have a price in mind before you start searching for a new set of pedals.
The price will also be the determining factor between a quality pair of Flat pedals and a cheap pair.
With the competition and innovation in today's market, you can easily find Mountain Bike pedals anywhere from $10 to $200.
For most beginners, you want to find a sweet spot where you can buy a quality pair of Flat pedals, without breaking the bank if you want to upgrade in the future.
Regardless of where you are on the spectrum, make sure you keep the law of diminishing returns in mind.
Flat pedals are made with many different types of material.
You can find them in aluminum alloy, composite, and even titanium.
Composite Flat pedals are made of a blend of materials and are generally cheaper than their metal counterparts.
Composite pedals are a great way to save money but they can be more easily damaged when you're out on the trail.
Metal pedals tend to be more expensive as they must be strong but also lightweight.
The real benefit of metal comes with how firm they are and how well they hold up to the trail.
Obviously, the more you can spend the better the material you can buy.
With most flat pedals on the market, you will have the option to choose between at least two sizes.
Most of the time, flat pedals come in size small and large.
If you have a smaller shoe size, you may feel more comfortable using a smaller pedal.
If you have a larger show or consider yourself average when it comes to shoe size, the large flat pedal will be a better option.
One of the unfortunate side effects of flat pedals is that they are a lot heavier than their clipless counterparts.
Flat pedals not only cover more space, but they also require a solid material to maintain their integrity.
This means that you will either have to deal with a heavier pedal or upgrade to a more lightweight material.
To provide the most comfortable and secure platform for your shoes, most flat pedals feature some degree of concavity or convexity.
Flat pedals with a degree of concave will be more comfortable for your foot to rest on.
Convexity is slightly less comfortable but provides more grip on the pedal.
If you find a pair of flat pedals that are truly flat, don't worry, they are still effective.
Although they are called flat pedals, all flat pedals feature the same thing – pins
The pins make the pedal less flat and more ridged so your shoes can grip to the surface.
Different flat pedals will have varying amounts of pins and even different pin patterns.
The more pins you have, the more traction you will have. But having too many pins can be a drawback.
You want to have enough pins to keep your shoes on the MTB pedal, but not too many where it's hard to remove your foot from the pedal.
Pins also vary in the length that they protrude from the pedal.
Most quality flat pedals will come with adjustable pins.
This allows you to adjust the traction and prevent injury from the occasional slip.
Flat pedals can be one of your first major purchases for your Mountain Bike, but they are also one of the most long-lasting parts.
This is especially true if you take care to maintain them.
Luckily, Mountain Bike pedals don't require too much maintenance to keep them running smoothly.
Aside from the usual cleaning and occasional lubing, not much attention is paid to a pair of flat pedals.
Even so, there can still be instances where you need to service your flat pedals.
This can include anything from replacing damaged or loss pins, to completely replacing the bearings and seals.
A quality set of flat pedals will usually come with the option to buy a servicing kit so you can extend their life and performance.
When you're deciding on your next set of Mountain Bike pedals, keep serviceability in mind.
Best Mountain Bike Pedals for Beginners
Arguably the best composite flat pedal for the money, the Raceface Chester flat pedal is one of the most popular pedals on the market.
Not only is it one of the highest quality flat pedals, but it is also available in just about any color you could imagine.
Although it does not have as many pins as the e*thirteen, the 8-pin pattern provides more than enough grip.
You can also rest assured that they will last a long time, as they feature strong axles with serviceable bearings.
One of the best composite flat pedals available comes from e*thirteen.
Their e*thirteen base flat pedal is one of the best Mountain Bike pedals for beginners, as it has great grip and traction.
It is also one of the most durable and long-lasting flat pedals for the money, it has a steel axle with Inboard bushings and outboard bearings.
From Crank Brothers, the Stamp 1 composite flat pedal is another great flat pedal for beginners.
This is another low-cost flat pedal that really shines when it comes to build quality.
Although some riders find the axle a little uncomfortable on the foot, this is also a really forgiving pedal for new riders.
This is also one pedal that is offered in both small and large sizes.
Not as popular as some of the other names on this list but just as great, the HT Pa03a composite pedal is really great for beginners.
This flat pedal is made of composite just like the others, but it is slightly heavier and wider than the average pedal.
This allows for a more solid platform for added confidence.
For a more in-depth review, check out this review from Outdoor Gear Lab.
Another reputable manufacturer in the industry, the Deity V2 platform pedal is a really good pedal for the price point.
With this flat pedal, Deity builds the composite platform around the same system that they use on their more high-end pedals.
Just like the majority of the flat pedals on this list, the pins, bearings, and bushings are all serviceable.
This is really a great thing for beginners, as you can easily extend the life of your Mountain Bike pedals.
Giving the Raceface Chester a run for their money, the OneUp Composite pedal aims to provide more traction at a better cost.
The result is solid build quality and 20 high traction pins to keep you secure to the bike.
Like most of the other pedals on this list, the OneUp composite pedal features a Chromoly steel axle for longevity and stability.
Interestingly enough, the pedal has a slightly convex shape to it.  
A more budget brand in the industry, the lightweight platform pedals from ROCKBROS has grown in popularity.
This is a great pedal for beginners who are looking to save money and who like to shop from Amazon.
Even though this would be considered a budget Mountain Bike pedal, it still features a lot of the same things you would see on the pedals from known manufacturers.
Just expect a little more weight and a slightly larger platform.
What shoes go with Flat MTB Pedals?
One of the great benefits of Flat pedals is that they do not require any special type of shoe in order to work.
When I first started, I was still riding in my foam Nike Tanjun's.
But that's not to say that some shoes don't work better than others.
In fact, manufacturers like Five10 and Specialized are selling shoes specifically made for Mountain Biking.
And Mountain Bikers swear by the difference they make.
The Mountain Bike shoes closely resemble "skateboard shoes" in that they have strong gummy soles with patterns made specifically for the pins of a flat pedal.
If you can, pick up a pair of real Mountain Bike shoes.
If you're looking to save money, a good pair of Vans or skate shoes will do fine.
In conclusion, there are many different options for Mountain Bike pedals for beginners.
Hobby Biker recommends that you start with a good set of Flat pedals.
Whatever you chose, we wish you luck and safe riding!