When it comes to taking care of your Bike, most riders know how important the bike chain is.
Not only does your chain affect performance, it can be the difference between a successful ride and a long walk home.
Fortunately, bike chains are extremely durable and dependable, as long as you care for them properly.
This can be as simple as a steady lubrication routine.
And nothing is simpler and easier than Dry Lube.
But what is the best Dry Lube for your bike chain?
In this article, we go over a few of our top picks, as well as some of the key things to look for when deciding which Dry Lube is best for you.
How to choose the best dry lube for your bike chain
Here are a few things to look out for when deciding on the best Dry Lube for your bike chain.
Starting off, the main goal of any lube is to keep your bike chain nice and lubricated.
This is where Dry Lube shines, as it is made to be lightweight enough to penetrate deep into your bike chain.
Once the lube gets deep into your chain links, it then depends on the coating and how long it will hold up.
A good Dry Lube should keep your chain lubricated on the longest and most dusty of rides.
Your lube should be strong enough to silence a squeaky chain.
One of the first things to keep in mind when buying Dry Lube is how long it lasts.
Due to the nature of Dry Lube, there is a good chance you will need to reapply relatively often.
For this reason, you want to get a Dry Lube that lasts as long as possible.
Luckily, there are plenty of Dry Lubes that last as long as some of the best Wet Lubes on the market.
This is really due to the advancements in ceramic and wax-based Dry Lubes.
Before I get too far down this list, I must first mention price.
While its easy to spend $50+ dollars on bike chain lube, that is completely unnecessary for most riders.
In fact, some of the best chain lubes are available for less than $10.
You can definitely get more performance out of the more expensive Dry Lubes, however, don't feel obligated.
There is a great Dry Lube for just about any budget.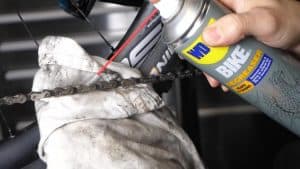 In general, Dry Lube is a relatively easy thing to maintain.
It is a lightweight compound and is usually safe for repeat applications – even if you don't clean your chain.
But some lubes can gunk up over time and clog up your drivetrain.
This is especially true with the lower quality wax-based lubes.
For this reason, always look at the compound that makes up the Dry Lube you're thinking of buying.
Try to find a balance between the portion that goes on wet and dries to provide lubrication.
In addition to this, you also want to avoid a Dry Lube that is messy all-together.
Most bike chain lubes call for application followed by a wipe down and a period where your bike just sits.
The best Dry Lubes will make this process a painless as possible.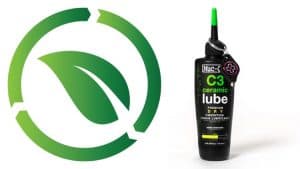 When you're deciding on the best Dry Lube for your bike chain, make sure you're choosing something that is biodegradable.
As you apply Dry Lube to your bike chain, it is very easy to allow some to drip to the ground.
On top of this, there is a good chance it will wash off on the ground or during cleanings.
By choosing a biodegradable Dry Lube, you are avoiding any damage or contamination to the areas you ride on.
Luckily, most Dry Lubes are biodegradable.
Finally, you want to look at your options for how you can apply the lube.
When you're putting lube on your bike chain, you must be very careful not to get it anywhere else on your bike – especially your brakes.
This can be challenging when you're using a Dry Lube that sprays on.
Ideally, the best Dry Lube will come in a bottle that you can drip onto the chain.
Not only will this prevent any unnecessary overspray, it will help you get the most out of your Dry Lube.
Best Dry Lubes for your Bike Chain
Although you can easily spend $50+ on chain lube, some of the best bike chain lubes are under $10.
We will breakdown our top picks, as well as some of the reason's riders choose these Dry Lubes over others.
Ask any rider what their favorite bike chain lube is and there's a good chance you'll hear "Squirt Dry Lube".
Squirt long lasting dry lube is one of the most popular dry lubes on the market and for good reason.
It runs super clean and can help you extend the life of your drivetrain.
It is made of a biodegradable wax compound that goes on easy and hardens to provide protection.
If you're looking for one of the best bets when it comes to bike chain lube, this is the stuff you're looking for.
If you're willing to spend a little more on your bike chain lube, SCC Slick All Conditions lube will give you the most bang for your buck.
They promise that you'll see the difference by your third ride but it's hard to miss it on your first.
Not only is this one of the cleanest running lubes, it is also one of the most long lasting.
SCC Slick actually uses a detergent to combat dirt and grime from getting into your chain.
This really comes in handy on those longer rides where your lube can easily wear down.
And the maintenance couldn't be easier, simply wipe it down after rides to reveal a spotless chain.
Finally, this lube is a solid lube for just about any riding condition, whether you need wet or dry lube.
If you're looking for an affordable chain lube that provides maximum performance and corrosion protection, then look no further than the Muc-off C3 Dry Ceramic Lube.
This dry lube is special due to the fact that it uses a ceramic coating to lubricate and protect your chain.
The tiny ceramic particles reduce metal to metal contact with your chain, optimizing performance and preventing damage.
The durability of the ceramic coating also allows you to ride in damp conditions without worrying about it washing off.
Every rider who has used Rock and Roll Gold has absolutely raved about it.
And for good reason, they claim they make the "best lube on the planet".
Take a look at their About Page and you will believe it – these guys really know their stuff.
Again, this lube provides superior lubrication by first cleaning your chain and then replacing the dirt with lube.
The lube then forms a protective seal that prevents any dirt or grime from getting deep into the chain.
Although it costs a little more than some of the other lubes on this list, you should give it a try.
Growing in popularity, Smoove bike chain lube has developed a loyal fan base.
This is another chain lube that claims to provide protection in all environments, however, it really shines in dry conditions.
With the special compound, Smoove provides durable and long-lasting protection for your bike chain.
Not as popular as some of the others on this list but just as effective, Pedros X Dry chain lube is one of the best on the market.
Every rider who reviewed this lube maintained how effective it was in even the driest and dustiest conditions.
Not only is it extremely effective dry lube, it also helps extend the life of your chain and drivetrain.
It helps extract the dirt deep in your chain, helping it run a lot smoother on the first ride.
Pedros dry lube is perfect for repeat applications, as it its lightweight formula does not thicken over time.
The only caveat, like most standard dry lubes, is that it does not do well in wet conditions.
Taking things back to the days that started it all, Molten Speed Wax bike chain lube is some really high-tech stuff.
And you wouldn't think so based on the age-old technique used to apply it to your bike chain.
If you're okay with the involving application process, this chain lube could possibly be the best on the market.
By melting highly refined paraffin wax on your chain, you get one of the smoothest and longest lasting chain lubes of all time.
Things to consider when using dry lube for your bike chain
In addition to using dry lube for the appropriate conditions, there are a few things you should keep in mind when applying dry lube to your bike chain.
Try one and move on to another until you find one you like.
The good thing about bike chain lube is that it is typically cheap to buy.
And although dry lube doesn't normally last that long, it gives you the opportunity to try different lubes.
This is actually one of the best things about chain lube, you can easily try a lot of different lubes until you find one that works best for you.
That is how I hope you will use this list, as a guide to some of the best dry lubes you can try.
Use one bottle of chain lube to see how it works for you and then move on if you feel its lacking in some way.
Clean and degrease before changing lubes.
Some dry bike chain lubes, especially the all-weather ones, will stick really hard to your bike chain.
While this works great when you need it to lubricate your chain, it can be a problem when you're trying a different type of lube.
Not all chemicals are made to mix and can even provide a negative side effect if the wrong chemicals interact.
Not saying that you will have an explosive event on your hands, but you can easily cause unwanted buildup on your chain.
For this reason, it is always recommended that you not only clean, but also degrease your bike chain before you try a different type of chain lube.
Cleaning your chain will get ride of all the surface dirt, but a good degreaser will completely strip your chain so you can safely apply another type of lube.
This way, the new lube will have the best chain surface to provide proper lubrication and protection. 
Let the lube sit for a while.
A mistake that most riders, myself included, commit to, is not letting our chain lube fully set into the chain.
When I first started riding, I would often remember to lube my bike chain right before I went out for a ride.
This is actually a really risky thing to do, even when you're using dry lube.
Your lube needs time to dry after application, otherwise, you will be attracting more dirt and grime to your chain.
On top of that, most dry lubes have a set-in period.
This set amount of time helps the lube really work itself into the chain, providing the most protection and lubrication possible.
If you don't let your lube sit for a while before riding, it could end up lasting for shorter amounts of time.
Even worse, it could end up doing the complete opposite of what you want it to.
Make sure you clean at the appropriate intervals.
One of the best things about dry lube is how lightweight it is.
This allows you to apply generously and as frequently as you want with no real negative side effects.
But this doesn't mean you can just apply dry lube endlessly to your bike chain.
After a while, dirt and grime will eventually mix with the lube, forming a thick substance on your chain and drivetrain.
This is why it is very important to keep your bike clean.
In fact, you should clean and degrease your bike chain at certain intervals before applying too much lube.
Most dry lubes will have this information on the bottle, but you can probably eyeball when you need to completely clean your bike chain.
What not to use as Dry Lube for a Bike Chain
This list is not the complete list of dry chain lubes and I encourage you to use whatever you see fit, however, there are certain things you should not use as dry lube for your bike chain.
This includes things like oil or non-biodegradable substances.
All in all, you can usually use your common sense to know what to use and what not to use.
If you have trouble, just make sure you're keeping your bike chain extra clean and you should be fine.
Shake well before using
Start to backpedal as you apply lube on the rollers of the chain
Continue to backpedal for 15-20 seconds until the chain is well lubed.
Using a clean rag, grab the chain and backpedal, as you wipe all excess lube from the chain
In conclusion, there are plenty of great dry lubes for every budget.
Use this list as a starting point to find the best dry lube for your chain, or feel free to recommend your own.
Good luck and safe riding!