Arguably the most important piece of any rider's gear, your Bike Helmet is the one thing you shouldn't ride without.
And when it comes to your own child, this is a non-negotiable.
But there are many types of Bike Helmet and ever more styles, especially if your child is a Mountain Biker.
From half to full-shell, Enduro to XC, and even convertible to standard, here is how you can make the best decision for your child, as well as some of our tops picks for Kids Mountain Bike Helmets.
Quick Answer: The 9 Best Kids Mountain Bike Helmets
Here is an at-a-glance look at some of my Top Rated Kids Mountain Bike Helmets, along with a quick classification. For more in-depth reviews of each Kids Helmet and thei features, please read further below.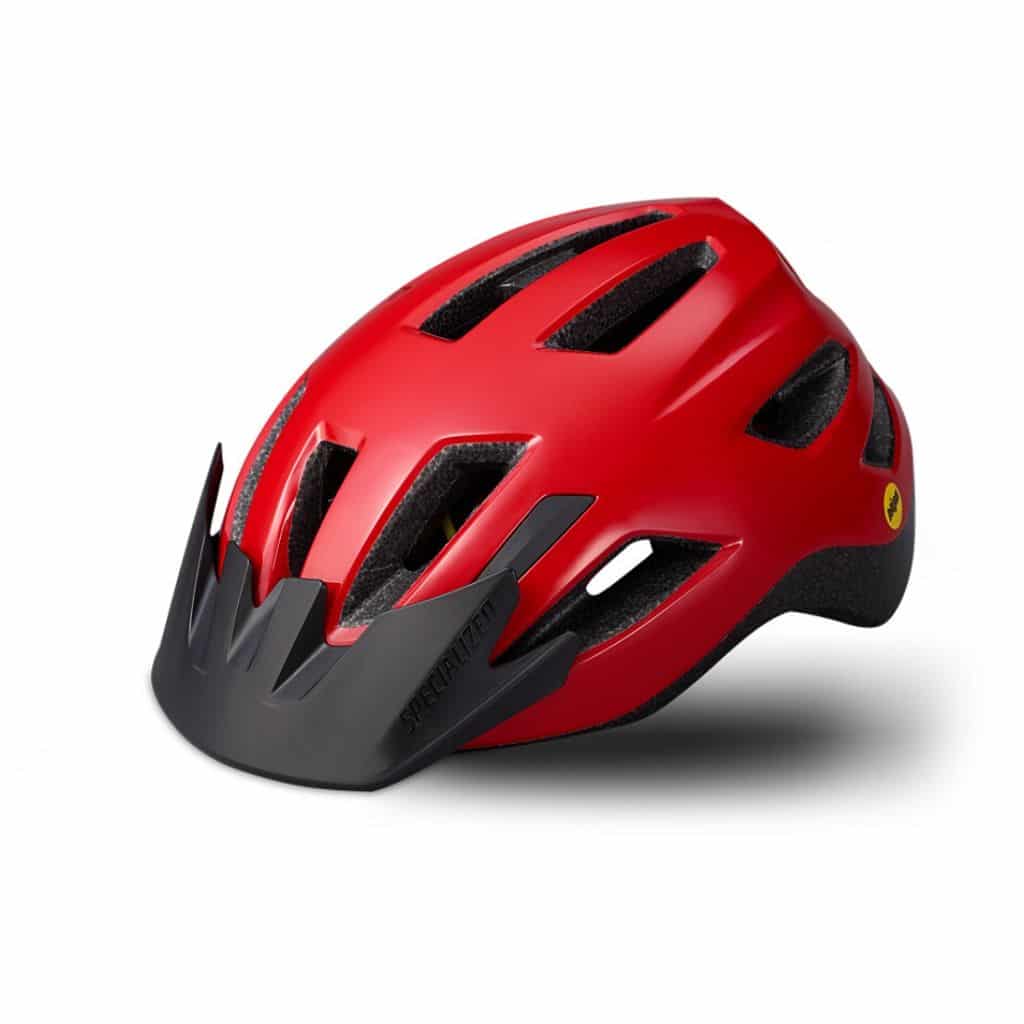 Actual LED built-in the rear
Kids Mountain Bike Helmet Sizes
Toddler – 45-53cm
Child – 50-55cm
Youth – 50-57cm
How to Measure a Kids Head for a Helmet
Wrap a tape measure around your childs head, making sure to keep it even from front to back. Record the measurement in cm. 
Available on Amazon starting at $59.95
Starting things off, one of the best kids MTB Helmets on the market is the Giro Scamp MIPS Youth Bike Helmet.
With their signature "Roc Loc Jr. fit system", designed specifically for smaller head sizes, you can rest assured that this MTB helmet will be a perfect fit for your child.
Even better, this helmet comes equipped with a Pinch Guard Buckle, saving you from that accidental pinch most kids go through.
This system is result of years of research and innovation and they even added a large rubber knob on the back, to better help in making one hand adjustments to the fit.
In addition to the fact that all Giro helmets are made to reduce impact energy as much as possible, this helmet is also equipped with MIPS.
While there are many quality MTB helmets out there without MIPS, it is typically something you want to have if you have a little one riding.
This is also a great option if you're looking for a lightweight MTB helmet for your child. Designed with an in-mold "Hardbody", the Giro Scamp Youth Bike Helmet combines a tough outer shell and polycarbonate inner shell, without any added weight.
The result is one of the safest MTB Helmets on the market for kids.
Available on Amazon starting at $45.54
For those looking to balance style and safety, one of the coolest looking helmets on the market is the Bell Sidetrack 2 MIPS Youth Bike Helmet.
And again, we are following the trend with MIPS, as the minimal cost increase is always worth the added safety and security of knowing your child is protected.
This style of helmet is one of the sleekest looks and color profiles to match.
But not only is it an attractive option, it is also one of the safest youth MTB helmets to buy.
Similar to the first MTB helmet on the list, the Sidetrack 2 Youth MTB Helmet has an in-mold shell system that combines a tough outer shell and bonded foam liner.
You also get double the number of vents, so the air flow should keep their heads cool in almost any environment.
The one thing to keep in mind with this helmet, is that it is sized for Youth-sized heads. While it can definitely fit the smaller heads of toddlers and younger riders, it may feel a little bulky on their head.
Available on Amazon starting at $69.95
Another great BELL helmet designed for smaller riders, is the BELL SPARK JR. MIPS.
This Youth MTB Helmet is just as stylish as the other one on the list, with a better fit for smaller head sizes.
In fact, you can expect all the same benefits with the Spark Jr. as you would with its adult-sized counterpart, with the exception of 1 vent. – hardly anything to miss.
Similar with most youth MTB Helmets, the Spark Jr. is designed not only for smaller heads, but also for smaller hands.
With the ERGO Fit adjustment system, your child should be able to easily make quick adjustments to how the helmet fits on their head.
Available on Amazon starting at $64.95
Another solid option from Giro is their Tremor MIPS Youth MTB Helmet.
This is another great helmet for Youth-sized heads and one of the best-looking MTB helmets on the list.
In addition to the great style and design, this helmet has one of the best adjustment systems of any youth MTB Helmet.
The big brother of the Roc Loc Jr., the Roc Loc Sports system is quite the upgrade from standard adjustment setup. You get a total of 7cm of adjustment range, with the ability to wear the helmet with a ponytail.
Standard with most Giro helmets, you have the in-mold outer and inner-shells.
This provides superior protection and safety, but also helps reduce the overall weight of the helmet.
Finally, this is a great Youth MTB Helmet for staying cool and managing sweat.
Not only do you have up to 18 vents for airflow, Giro also added quick-dry padding for the hottest days.
Available on Amazon starting at $39.99
One of the best budget options for Youth MTB Helmets is the Kali Chakra Youth Helmet.
Though its' not as big of a name as some of the other helmets on the list, this youth helmet is comparable to some of the top names in the industry.
Just like Giro, Kali Protectives designed this helmet with an in-mold outer and inner-shell design, something that is proving to be one of the safest features for youth MTB Helmets.
Although this helmet does not have the MIPS technology, it is still CPSC and EN 1078 certified.
And with such a good price point, you actually get some features that the other helmets don't have, like antimicrobial pads and a breakaway visor.
Available on Amazon starting at $59.95
Taking on a slightly different shape than the rest of the helmets on this list, the Hale MIPS Youth Helmet from Giro is one of the lightest and most ventilated MTB Helmets on the list.
And this time, it's not just attributed to the in-mold inner and outer-shells. What makes this MTB helmet so lightweight and aerated, are the 22 vents placed all over the helmet.
In addition to making it well ventilated, Giro also designed the helmet for maximum durability and comfort.
Featuring the same Roc Loc Sport system you would see on adult helmets, your child will have a comfortable fit the first time, with plenty of room to adjust.
Again, I recommend the MIPS version of the helmet, as this will provide the most protection possible.
Available on Specialized starting at $55
If you're looking for the perfect MTB helmet for a toddler, look no further than the Specialized MIO MIPS Bike Helmet.
Made especially for the smallest of riders, this is a great, non-bulky option for your toddler or little one.
Since this style of helmet is only made in the toddler size, Specialized took extra care to make sure that it would fit correctly and comfortably the first time.
On top of the specific fit, there are also a few features aimed towards the younger rider, that really come in handy.
A magnetic buckle to prevent pinching, reflective webbing for increased visibility and front mesh-covered vents to keep out bugs, this helmet is perfect for a beginner rider.
Available on Specialized starting at $55
If you're looking for a step up from the MIO, the Specialized Shuffle LED Bike Helmet is the next best option.
Similar to the rest of the helmets on this list, the Shuffle is able to maximize durability and minimize weight by molding the inner and outer shells together.
Since this MTB helmet is made for child and youth sizes, this helmet uses Specialized's Headset SX fit system to get the best fit the first time.
This is also the first MTB helmet on the list with onboard electronics. The Shuffle actually has an LED light built into the back for visibility.
While this obviously looks cool out on the trail, it also keeps your child even more safe while riding.
Another upgrade comes with the ventilation, with what Specialized calls their "4th Dimension Cooling System".
And finally, you also get the added comfort of the Tri-Fix web splitter straps, which also make it a lot easier to adjust and maneuver.
Available on Amazon starting at $54.99
Another lesser known brand that competes with the best of them brings us the Lazer Gekko MIPS Mountain Bike Helmet.
With a drop-down rear and sides for added protection, this bike helmet comes in a pretty attractive package.
It has a really low profile for a MTB helmet, even with the integrated visor.
This is another bike helmet recommended because it is such a good deal on a MIPS bike helmet.
Although this helmet doesn't have a cool LED light like the Specialized Shuffle, it does have a pretty nice Autofit Retention System. This system automatically adjusts the helmet to the riders head, for a more comfortable fit.
If you need some help making the right decision, we listed a few features and guidelines to keep in mind when you're making your choice.
Starting off, the first thing to look for when deciding on a youth MTB helmet, is the main reason you're buying one in the first place – Safety!
Luckily, the Unites States requires that all Bike helmets conform to a safety standard set by CPSC. Always make sure any MTB helmet you buy is CPSC certified.
Taking things a bit further, you should also consider getting a bike helmet with MIPS certification.
MIPS is a technology that can really help reduce injury in slower crashes and it also better protects your child's brain from injury.
On top of the CPSC certification, a MTB helmet must fit your child perfectly in order to be considered safe.
The safest MTB helmet in the world will do no good if it barely fits on your child's head. On top of that, if your child is riding rough Downhill courses, you don't want to get a lightweight XC helmet that only covers a small portion of their head.
On the flip side, a full-face helmet can be overkill if your child only rides cross country trails, as it can restrict their view more than a more appropriate helmet.
Although I mentioned Fit in the last paragraph, it really deserves its own explanation, as it will play one of the largest roles in your decision to choose one helmet over the other.
MTB helmets are designed to support multiple head sizes, and they will usually provide the measurements in Centimeters.
While it can be easy to manage with a MTB helmet that is too big or too small while riding, the real issue comes if you ever face a crash on the bike.
Your child's MTB helmet should fit snug, without being overly tight. As well, a MTB helmet that fits well should be able to sit level on your head, with the front of your helmet sitting no more than 1 inch above your eyebrows. This allows the helmet to protect your forehead, as well as the back of your head.
Fit can also come in to play further down the road as your child grows. It may be worthwhile to buy a bike helmet that your child can use for years to come, especially if they've grown attached to it.
Again, kids MTB helmets will come in a few difference sizes, ranging anywhere from 45cm to 58cm in circumference.
Before you decide on a MTB helmet for your child, try to take a measurement of their head.
Once you have the circumference, review this number with the range allowable on the MTB helmet. The goal is to be somewhere in the middle, with plenty of room to adjust the helmet as needed.
Depending on the age and size of your child, weight may be a factor when it comes to picking out their first MTB Helmet.
Since most bike helmets are made to fit a range of sizes, they can often appear bulky or small for the persons head. If your child's helmet is too bulky on their head, it can really weigh them down and cause a lot of discomfort.
Whether you're buying a helmet online or at the store, make sure you're aware of how heavy the MTB helmet is.
When your child gets their first MTB Helmet, there's a good chance they are going to be making quite a few adjustments until they find the right fit.
And I am not just talking about the Helmet straps.
Most modern bike helmets also come with a tightening system in the rear of the helmet, that allows the rider to tighten the inner shell or brace for a firm fit.
This mechanism is really what helps the helmet stay in place on your child's head, and it will also make them feel like the helmet is more secure.

It's true what they say when they tell you that most of your heat escapes through your head. And this is especially true whenever you're wearing something on top of your head.
Believe it or not, your child's head can work up a lot of heat when they're out there riding all day.
Luckily, most Mountain Bike Helmets for kids also come with plenty of vents to allow airflow.
Mountain Bike helmet buckles haven't really changed much in recent years.
And there's a good chance your child is already used to the plastic pinch buckle seen on everything from highchairs to Mountain Bike helmets.
But, that style of buckle can still be a challenge for your child depending on their age and the dexterity in their fingers.
Luckily, there are youth Mountain Bike helmets with magnetic style buckles, making it a lot easier for your child to handle on their own.
Finally, like most of the gear your child will need, kids MTB helmets come in all sizes and styles.
Since you know your child best, always keep their preference in mind when you shop for a new helmet.
Even allowing them to choose their next MTB helmet is a good idea, as they will be happier with it for a longer period of time.
In conclusion, there are a myriad of options for kids Mountain Bike Helmets on the market.
As long as you stick to the safety guidelines and do your research before you buy, you are bound to have a good experience.
If you can, head to your Local Bike Shop or Sporting Goods store to try on a few helmets.
If you decide to buy online, find a good retailor or aggregator that will let you return the item at little or no cost.
Safe riding and good luck finding the best helmet for your child!