As most riders know, wet conditions can be your bikes worst enemy.
Not only is water a nuisance, it can strip your bike of the vital lubrication it needs.
One of the most important parts to keep lubricated is your bike chain.
Unfortunately, it is also one of the most exposed bike parts.
To help you keep your bike chain lubricated during wet rides, you need a good Wet Lube.
In this article we breakdown some of the best wet lubes for your bike chain, as well as some tips for picking the right one.
How to choose the best wet lube for your bike chain
Here are a few things to look out for when deciding on the best Wet Lube for your bike chain.
Lubrication is the main goal for any lube and it really is important.
A good lube is supposed to work itself deep into your chain links, preventing any metal on metal contact.
This not only maximizes performance; it also helps you prevent chain wear.
Your bike chain is one of the highest stress areas on your bike, by keeping it properly lubed, you greatly increase its lifespan.
Which is great for the rest of your bike, specifically the drivetrain.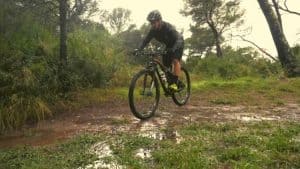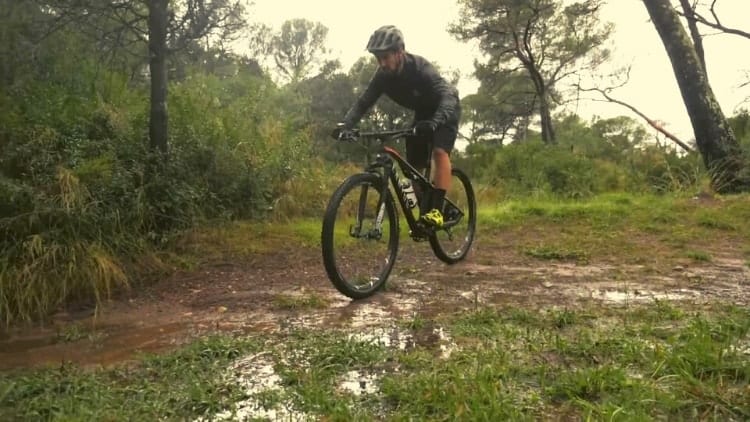 Longevity is the next thing to keep in mind because it really points to the durability of your wet lube.
For most of us, we will be taking our bikes out on really long rides and will need a lube that can hold up for the entire ride.
This is especially important for wet lube, as cyclists are riding through water, mud and wet conditions.
The whole purpose of wet lube is to remain effective on even the most grueling and wet days.
Try to pick a wet lube with a compound that provides long-lasting results.
You should also make sure your lube sits for the full set-in period.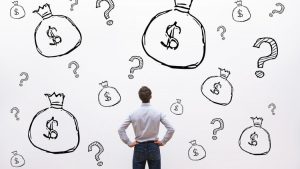 Price is a big one to touch on because you can easily get wrapped up spending a fortune on bike chain lube.
And I'm not knocking the brands that make the $50+ chain lube.
But most of us will be just fine spending $10-$20 max.
I myself have never spent anything above $25 on chain lube, however, I am sure the law of diminishing returns applies.
Just make sure you don't buy something so cheap that you will end up spending more because you have to buy more often.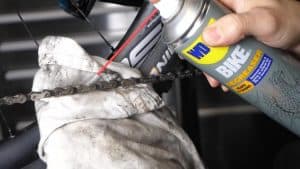 Maintenance is another big one that I feel like a lot of riders can overlook.
As bike chain lubes have become more advanced, there are more requirements to keep them working how they should.
Some lubes require long set-in periods, and some require intricate application processes.
As a start, you can at least expect to spend a fair amount of time cleaning and reapplying lube.
This is especially true with wet lubes.
Try to find something that is not too messy and really easy to maintain.
For wet lubes, this really comes down to the cleaning parts.
Due to the nature of wet lubes, you may need to add a solid degreasing routine to your cleaning regiment.
Try to find a wet lube that balances between protection and ease of reapplication.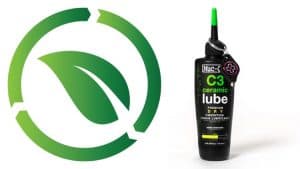 In the market today, it is really easy to find great products that are both effective and biodegradable.
Wet chain lube is no exception.
In fact, some of the best wet chain lubes on the market are also completely biodegradable.
And this is good because it is easy to get messy with chain lube.
Between generous application and the accidental spill, eat is really easy to get lube on the ground.
If you're new to riding, don't make the mistake of getting a spray on applicator for your chain lube.
Chain lube is really one of those things you want to keep focused on one area.
Overspray can get onto your wheel or bike, or even worse, your brakes.
By having a drip applicator, you can easy drop lube exactly where you need it.
Best Wet Lubes for your Bike Chain
Now that you know what to look for, lets take a look at the best wet lubes on the market.
We will breakdown our top picks, as well as some of the reason's riders choose these Dry Lubes over others.
Starting off, one of the best wet lubes you can buy comes from none other than Rock n Roll Lubes.
Their Extreme and Gold lubes offer some of the best protection you can have while riding in wet conditions.
Not only does this lube work well to lubricate your chain, it also works well at keeping it clean.
Their formula features a compound that penetrates deep into your chain links.
Once it reaches the dirt deep in the crevices of your chain, it pushes it to the surface for easy cleaning.
The lube then remains in those crevices to form a type of seal to block dirt and grime out.
You will experience smoother shifting and pedaling, even after a really wet ride.
If you're looking for something a little more versatile, check out the Rock n Roll Gold Lube.
Another one a lot of riders swear by is the Progold Xtreme.
Not only is this one of the best wet lubes you can buy, it is also one of the longest.
In fact, one of the main goals for this lube is to make sure it is a long-lasting compound.
This makes it one of the most durable lubes as well.
Which really comes in handy on those long and wet rides, where standard wet lube can easily wash off after a few miles of riding.
This next one is labeled as a dry lube, but it is actually a really good wet lube as well.
Squirt's long-lasting lube is one of the most popular chain lubes in the industry.
Not only are they really involved with cycling as a sport, they are also really thorough when it comes to their products.
Their wax-based chain lube is a great example, as it is made of a long-lasting formula.
Although it is not the most durable lube when it comes to wet conditions, it is one of the cleanest running lubes on the market.
If you're looking for the next best development in chain lubes, then the ceramic C3 wet lube from Muc-off is the best option.
This compound uses one of the most durable substances to hit a chain – ceramic.
Ceramic not only provides great chain lubrication; it is also a lot stronger than standard wax lubes.
 This is a really solid lube for riding in the harshest and most wet conditions.
On top of that, it does an amazing job of keeping the friction of your chain down.
By using small particles of Boron Nitride, the Muc-off ceramic wet lube can drastically improve pedaling and shifting performance.  
If you're looking for a selection of wet chain lubes for just about any preference, you should check out Pedros chain lube.
The wet lubes they have are some of the cleanest and most quiet running chain lubes available.
The best thing about Pedros, is that they offer 3 different styles of wet lube.
You can try Pedros Enduro if you plan on riding in extremely wet conditions.
Pedros Syn is one of the best wet lubes for Mountain Bikers.
And you can try Pedros ChainJ if you're looking for a light, yet long-lasting wet lube.
Whatever route you go, it's a safe bet that you will be more than pleased with your selection.
The most extreme wet lube on this list is the Purple Extreme chain lube.
This is a popular lube amongst a lot of the bike shops I frequent and for good reason.
Purple Extreme was originally made for chains to run in salt water.
You can't get much more protection than that.
It is also one of the longest lasting lubes available and can double as a solid dry lube.
Even if you're brand new to cycling, you must have heard of Park Tool by now.
This industry giant has a range of quality bike products and their chain lube is no different.
Park Tool CL-1 Synthetic chain lube is some of the best wet lube you can buy and at such an affordable price.
Talking about multi-use, this lube serves well in both wet and dry conditions and can even be used on other parts of your bike.
If you're looking for a safe bet that is also well rounded, this is the best option.
If there was a battle for the top spot when it comes to chain lubes, Dumonde Tech would be a tough contender.
Dumonde tech offers two simple and classic chain lubes, however, they are some of the most advanced.
Their chain lube uses a compound that forms a sort of "plating" on your chain after riding.
This helps your drivetrain reduce friction and wear, and last long overall.
It is also impenetrable when it comes to water, as it cannot easily wash off.
Believe it or not, you can actually get a solid wet lube from the same brand that has the best degreaser – WD-40.
WD-40 wet lube is one of my favorite lubes, as it is easily accessible and equally as affordable.
It always comes in an easy drop bottle and holds up really well, even when riding in wet conditions.
I never got a chance to fully test their wet lube, however, their all-weather lube was so good that I cannot see their wet lube doing any worse.
Another easily accessible chain lube is the Finish Line wet lube.
Just like WD-40, you can easily find this stuff at your local Walmart and the price is unbeatable for the results.
For their wet lube, Finish Line is using a high-viscosity oil to reduce friction and provide a water-proof coating.
If you're looking for something a little more advanced, check out the Finish Line Ceramic Wet Lube.
Things to consider when using wet lube for your bike chain
Wet Lube is typically used in specific situations, with that being said, here are a few things to keep in mind when using wet lube.
One of the first things to keep in mind when using wet lube is to keep your chain clean.
Although most lubes protect against dirt and grime, it will inevitably build up over time if left unattended.
This will not only affect performance; it can potentially cause damage to your chain and drivetrain.
Another thing to keep in mind when applying wet lube is to always wipe away any excess lube.
Some lubes are potent and can eat away at your paint or other parts of your bike if left.
Even more, excess lube will be a dirt magnet, attracting more dirt to your chain, causing it to wear down faster.
Don't be afraid to really scrub your chain free of any excess oil or lube.
Wet lube is made up of a stickier and more durable compound than most dry lubes.
Being water-resistant, it will often take more than a good cleaning to strip your chain of wet lube.
For this reason, you will find yourself using a degreaser on your chain quite frequently.
Allow the lube to sit overnight
Where dry lube can be a quick drop and go, wet lube must sit for a certain period to be effective.
Some lubes rely on that set-in period to fully strip your chain of dirt so it can replace it with lubrication.
On top of that, most wet lubes will be dirt magnets if you start riding too soon after application.
Keep it focused on the chain
Like with any type of lubricant, you should always keep the lube on the chain and avoid getting it anywhere else.
If lube gets on your bike or brakes, you can potentially deal with an issue later down the road.
What not to use as Wet Lube for a Bike Chain
If you're dry lubes not cutting it, make sure you use a solid wet lube.
Don't try anything like motor oil or a multi-purpose grease.
Shake well before using
Start to backpedal as you apply lube on the rollers of the chain
Continue to backpedal for 15-20 seconds until the chain is well lubed.
Using a clean rag, grab the chain and backpedal, as you wipe all excess lube from the chain
In conclusion, there are a lot of different wet lubes you can use on you bike chain.
Use this list as a starting point to help you find the wet lube you prefer.
Good luck and safe riding!