I ran into a challenge the other day on one of my local trails.
Luckily there was another Mountain Biker there to offer some friendly advice. However, the advice that he gave involved using Clipless Pedals.
Being a flat pedal rider since I started Mountain Biking, I could finally see the appeal of using Clipless Pedals.
The section I was struggling with is called "White Rock" – I'll post a quick picture below: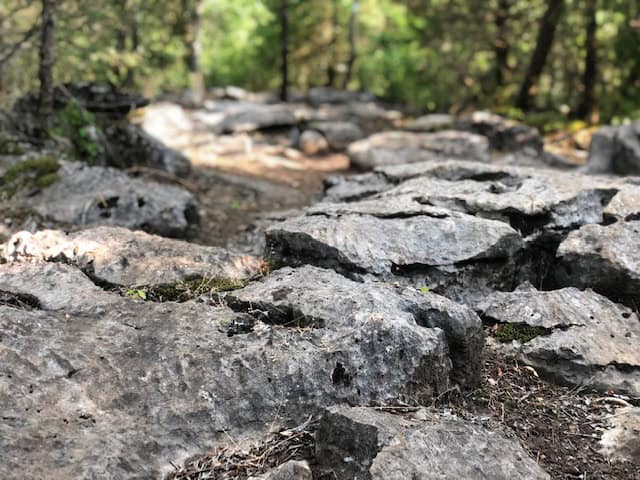 I began to wonder should I use Clipless Pedals for Mountain Biking?
Especially if I planned on defeating tough sections like White Rock.
After doing some quick research online, I finally answered a lot of my questions around Clipless Pedals and found out where and when I should consider their use.
To start, I first wanted to answer some of my initial questions that kept me away from using Clipless Pedals in the first place.
Are Clipless Pedals Dangerous?
From the start, Clipless Pedals sounded like a disaster waiting to happen.
The idea of strapping my feet to my mtb pedals didn't seem too beginner friendly, and the benefits did not seem to outweigh the risks.
Especially when I had become so accustomed to easily stepping off my bike.
But with the recent challenge at White Rock and a little extra research online, my initial thoughts on Clipless Pedals changed.
So are Clipless Pedals Dangerous?
NO – Clipless Pedals are no more dangerous than flat pedals, and in some instances, they are safer than using flats.
Clipless Pedals do keep you more secured to your bike, but this is actually a good thing.
Take for example the White Rock that I had a problem with.
On flat pedals, I would have bounced right off the bike.
Especially if I hit each rock with the speed necessary to get across it.
This would have left me with some scarred-up legs and shins.
This is less of the case when you use Clipless Pedals for Mountain Biking.
Clipless Pedals virtually eliminate the fear of losing grip on the pedals.
And if you're worried about clipping Off, you may be surprised at how easy you can put a foot down.
Most of the Clipless Pedals sold today allow you to adjust the locking mechanism, which gives you more movement on the pedal, and makes it easier to clip on and off.
Are Clipless Pedals Worth it?
Going from Flats to Clipless not only involves buying new mtb pedals, it also requires buying clipless mtb shoes.
Coming from a $30 set of flat pedals and my trusty pair of vans, the clipless setup seemed like quite an investment.
With my flat pedal setup serving me fine for all this time, I started to wonder, "are clipless pedals worth it?".
This is where the preference for clipless pedals or flats becomes objective.
There's no arguing that flat pedals teach you better technical and bike control, but that's not to say that clipless pedals don't serve a better purpose.
If you find yourself bouncing off the pedals on some of the more technical sections, you may want to consider the upgrade.
Are Clipless Pedals More Efficient?
A common question Mountain Bikers ask is, "are clipless pedals more efficient than flat pedals?".
Obviously, flat pedals require that you push down on them to start turning the crank, but with clipless pedals, you can actually pull up on the pedal as well.
While some argue that this teaches you bad technique on the bike, there's no doubting that there are benefits to being able to use the full range of motion.
In addition to a better pedal stroke, clipless setups are a lot lighter, bringing down the average weight of a Mountain Bike.
So does this make clipless pedals more efficient than flat pedals?
It really depends on how you use the pedal and what situations you plan to encounter.
If you need a pedal that can handle steep climbs, tall obstacles and unparalleled grip, clipless pedals are the answer.
For some extra pros to going clipless, check out this article from Bicycling.com
Another thing to consider before making the change to clipless pedals, is your cycling background.
Are you used to riding flat pedals when you go biking?
Would you consider yourself an experienced rider?
As you will find, your riding background will come to play a huge role in your change to clipless pedals. At least while you are still getting adjusted.
Mountain Bikers who have a history of Road Cycling may find less of a challenge in going clipless on their Mountain Bikes, versus people who are still rather new to the sport.
When to Consider Using Clipless Pedals for Mountain Biking
In most instances, you may be surprised to find that flat pedals still do the trick.
But that's not to say that you won't be better off using Clipless instead.
Here are a few situations where I would recommend making the change to a Clipless setup:
Your flat pedals are shredding your shins and calves
You're struggling with grip on steep climbs
You have trouble staying on the pedals when you hit fast and bumpy sections
You're looking to get the maximum pedaling efficiency
Of course, there are many reasons to consider the change to a Clipless setup, however, these will give you a good introduction.
At the end of the day, this is something you will decide for yourself.
Why You May Want to Use Flat Pedals for Mountain Biking
I am still a big fan of flat pedals and would recommend flat pedals for any beginner rider.
Flats not only help you learn the correct techniques on the bike, they're not as much of a commitment as Clipless Pedals.
If you're not struggling with grip or pedal efficiency, a quality pair of flat pedals will suit almost any situation.
In conclusion, you should only make the upgrade to Clipless pedals if you feel the need to.
Clipless Pedals have specific benefits when it comes to Mountain Biking, but you would be surprised how well a quality pair of Flat Pedals work.