Believe it or not, Tennessee is home to some of the best Mountain Bike trails in the Southeast.
And I'm not just talking about Windrock in Oliver Springs.
Instead, we are headed about 2 hours south to the popular city of Chattanooga.
Yes sir – Just a short 20-minute drive from Downtown lies some of the best flow trails the state has to offer, Enterprise South Mountain Bike Trails.
Located in a well-known and well-kept part of the city, the trails are actually a part of the Enterprise South Nature Park.
Although Chattanooga is not usually known as a Mountain Bike Destination, you would be surprised by some of the hidden gems it has to offer, Enterprise South included.
If you're looking for a great ride after a visit to the Aquarium, or even if you're looking for a full day of fun and adventure, here is everything you need to know about the Enterprise South Mountain Bike Trails.
Where is Enterprise South Mountain Bike Park?
First things first, where are the Enterprise South Mountain Bike Trails and how do you get there?
From Downtown Chattanooga, hop on I-75 East and take Exit 7. Turn left onto Volkswagen Drive and drive for less than a mile until you reach the roundabout. Take the first road on the right and you will see the Enterprise South Nature Park Visitor Center to your right.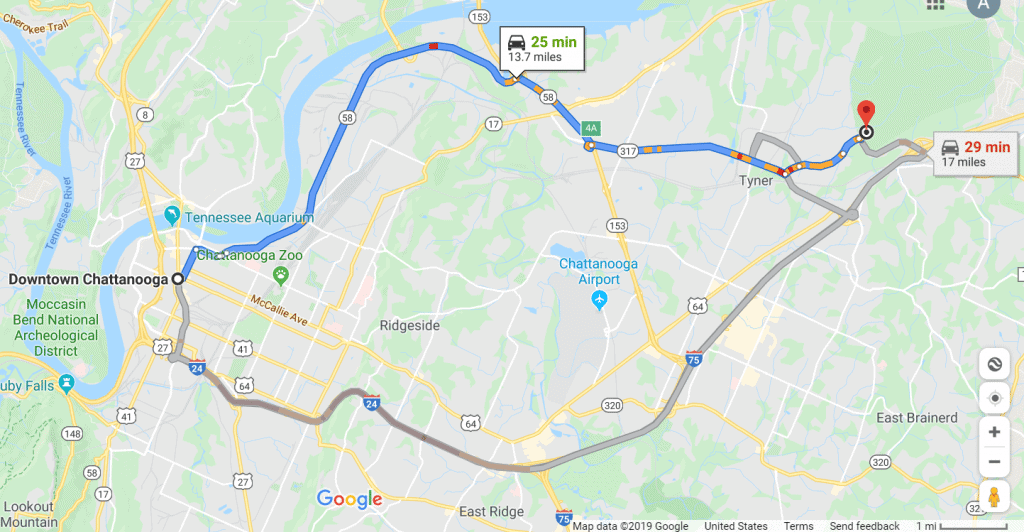 Enterprise Mountain Bike Park is a trail system consisting of 15 miles of pristine singletrack.
The park has a total of 4 Directional Mountain Bike trails, although the 3 "beginner" trails can be lumped into one, and it is known for its flow and beauty.
The trails are actually a part of a Nature Park, so you can expect a few hikers during your ride.
This is actually good news though, as the park is well maintained and well-marked. Plus, there are plenty of family friendly and non-Mountain Bike related activities to do like Hiking and Wildlife Viewing.
Although there is great riding for all skill levels, most of the trails are beginner friendly and can be taken at your own pace.
Get in some time at the pump track or test your balance at the skills park between rides.
Navigating Enterprise Nature Park
Once you enter the park, you will see parking immediately in front of you and to your left. You can also take a right at the stop sign to park at the Visitor Center.
If you're wanting to get started Mountain Biking as soon as possible, avoid the first parking areas and head straight after the stop sign through the gate labelled "One Way".
Now there's a few places you can park if you want to access the Mountain Bike Trails. I recommend the P.6 parking lot by Gate 1 or the P.3 parking lot by Gate 10.
Although there are several trailheads to each trail, the P.6 parking lot gives you access to the central hub where they all converge. This allows you to ride each trail individually or combine them all into one continuous loop. This is also the only entry and exit point for the advanced Atlas trail, a must ride for experienced Mountain Bikers. Finally, this section of the park also has a skill section with log bridges and steps.
After heading straight at the park entrance, take the first right onto Still Hollow Loop and keep driving until you see the Atlas Trailhead.
Parking at P.3 by Gate 10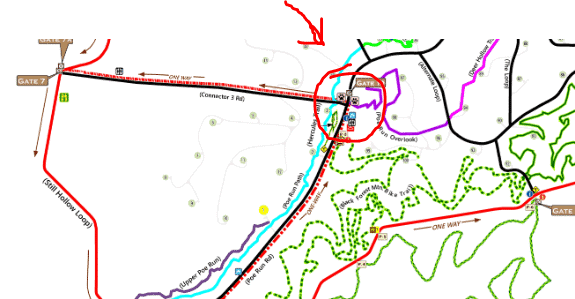 P.3 is also a great spot to park and access the Mountain Bike trails, it also has the most parking spots available. This is a good first start for most riders, as it provides access to the beginner trail, which ends up looping through the more advanced trails. It is also the easiest way to access the Hercules Mountain Bike Trail, a really short and easy trail designed for absolute beginners. Although each major parking lot has a restroom, P.3 also has a changing station.
After heading straight at the park entrance, keeping driving straight on Poe Run Road until you see the parking lot on the right.
Be aware that the roads are one way only, with a max speed limit of 15mph. Poe Run Road is shared with pedestrians so make sure you exercise caution and Still Hollow Loop is for motorized vehicles only.
How Big is Enterprise South?
Enterprise South Nature Park and Bike trails has over 15 miles of Mountain Bike trails and just under 9 miles of paved roads.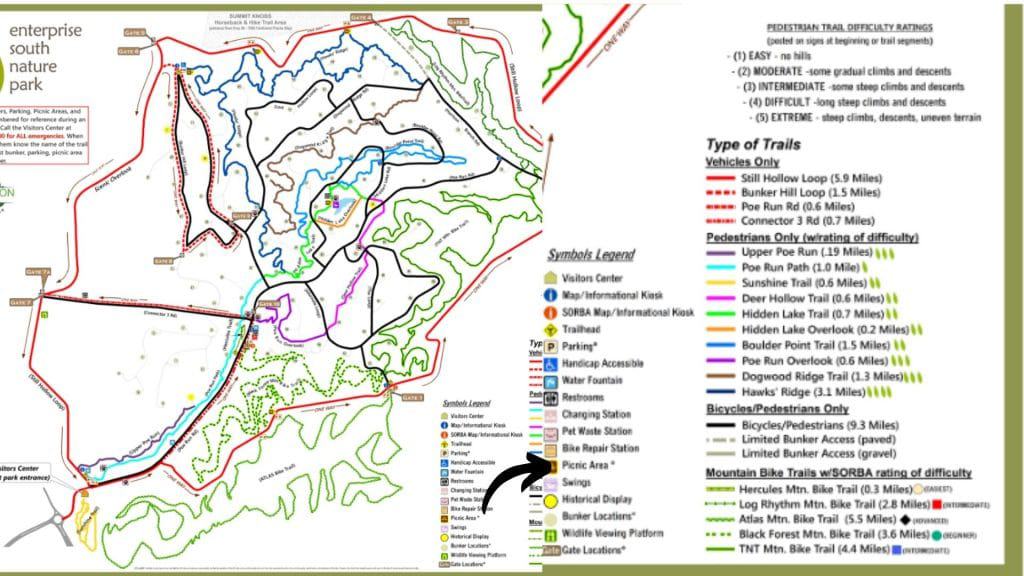 There is additional mileage for Pedestrians only.
The beginner and intermediate trails account for just over 10 miles of flowy singletrack and the advanced Atlas trail adds an additional 5.5 miles.
What Do I Need to Ride at Enterprise South?
Enterprise South Mountain Bike Trails are perfect for your Hardtail, although a full suspension won't hurt on a few of the drops.
Since the trails are mostly smooth and flowy singletrack, you can carry plenty of speed without worrying about getting too rough and technical. As well, the extra rigidness can make the small jumps that much more fun.
Following the theme from above, the smooth riding is rather forgiving, and you should be solid with a quality helmet and backup parts. Always pack a spare tube and a first aid kit, but there's a good chance they won't be used.
No special clothing needed here, unless you feel the weather calls for it. Regardless, the temperatures here are usually quite comfortable, even during the Winter months.
For some great spots to visit during the colder months, check out this article on some underrated Winter destinations.
What Are the Trails Like?
Like I mentioned earlier in the article, Enterprise South is full of smooth and flowy Mountain Bike Trails, fun for riders of all skill levels.
There are no real technical sections though the wooded park, however, you can really challenge yourself to maintain speed through turns and even handle small jumps at high speed.
This allows riders to go at their own pace, without missing out on the fun the trail has to offer.
As well, the trails are all on an alternating directional loop, meaning they change direction every other day.
Even though the trails alternate, they are so well built that there are no unnecessarily grueling climbs and all the downhill sections flow perfectly together.
1. Park at P.6 to access all the trails
2. Bathrooms and changing station at P.3
3. The entire park works on a One-way loop at 15 mph
4. Roads are motorized vehicles only and can get steep in some sections
5. Restrooms as each major parking lot
6. Picnic areas scattered throughout park
7. Wildlife Observatory Deck on Still Hollow Loop
8. View near exit on Still Hollow Loop
9. NO Smoking for the entire park
10. Leave before 4:30pm
When is Enterprise South Mountain Bike Park Open?
Enterprise South Nature Park opens as soon as it starts to get light out and closes at 4:30pm, 30 minutes before its posted closing time.
For more information, visit the official website.
Videos of Enterprise South Mountain Bike Trails
For a better look at some of the trails, make sure you check out a few YouTube videos.
My favorite is from Pedaling Dave, make sure you check out his channel.
We wish you the best of luck on your ride. Enjoy your time and have a blast!