If you're planning a trip to Chattanooga, there's a good chance a trip to Raccoon Mountain is at the top your list.
Located less than 20 minutes from Downtown, Raccoon Mountain is one of the best trail systems you can visit in the Southeast.
For those of you ready to see what it's all about, here is a guide to Mountain Biking at Raccoon Mountain.
Raccoon Mountain is home to over 27 miles of intermediate to advanced singletrack. This is the perfect spot to test your endurance and skill on steep sections full of rocks and roots, while taking in some of the best views in Chattanooga.
Where are the Raccoon Mountain Mountain Bike Trails?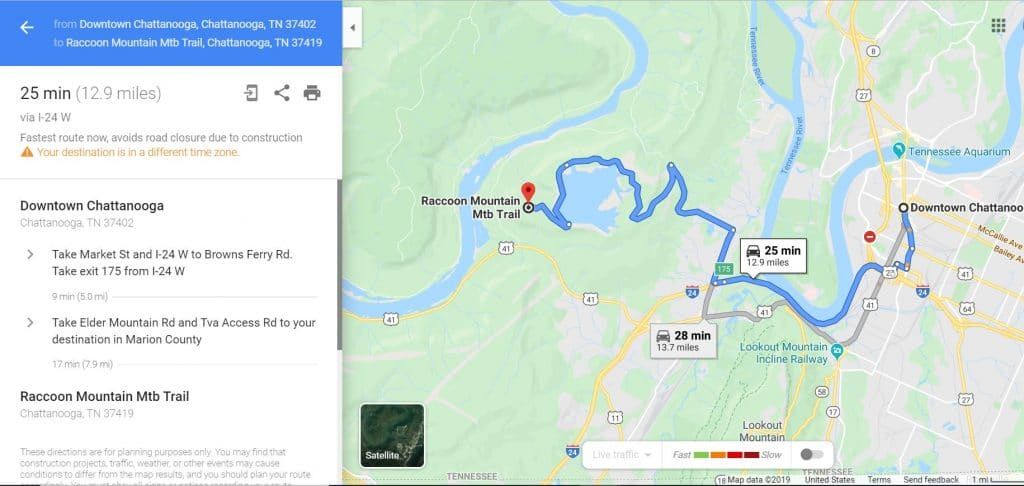 Starting off, where is Raccoon Mountain and how do you get to the Mountain Bike Trails?
From Downtown Chattanooga, hop on I-24 W(towards Nashville) to Exit 175. Turn Right on Browns Ferry Road and then take a left on Elder Mountain Road. After 2 miles, take another left onto TVA Access Road and drive straight until you see the cutoff for the Mountain Bike Trails.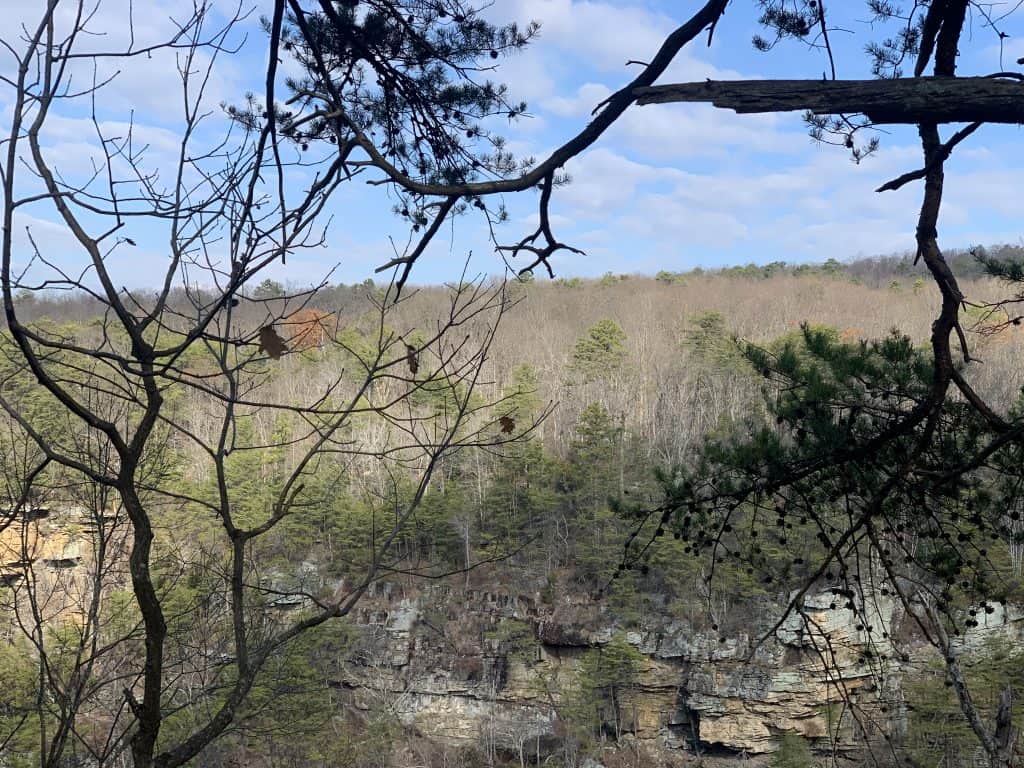 Of all the reasons you should visit Raccoon Mountain, the incredible views from the mountainside are some of the top reasons Mountain Bikers visit this beautiful trail system.
After building nationally recognized singletrack on previously underused mountain terrain, Raccoon Mountain quickly grew in popularity. It was even featured in Bike Magazine.
And not just for the stunning views of Chattanooga and the Tennessee River Gorge, the Mountain Bike Trails at Raccoon Mountain are also some of the most fun and challenging trails in Tennessee.
Test your endurance on the climb up High Voltage and then reward yourself with the exhilarating descent down Live Wire 1.
I particularly enjoyed this trail system after a full day of riding at Enterprise South, as it provided a more raw and natural experience.
If you're looking for a more flow than Raccoon Mountain, check out this article on Enterprise South.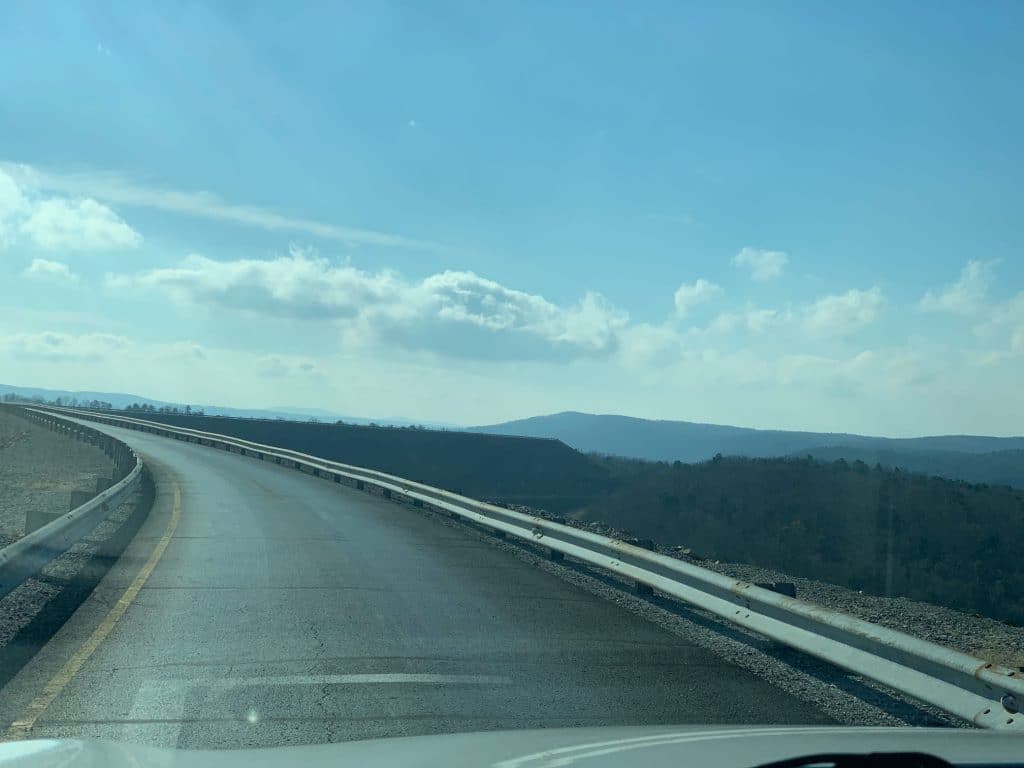 Not being a native of Chattanooga, I didn't really know what to expect when I first set out to visit Raccoon Mountain.
After hearing of its popularity, and even seeing it featured on YouTube channels like BKXC and The Singletrack Sampler, I was expecting it to be a little packed.
Even though it was mid-December when I made the visit, the weather was hovering around the high 50's to low 60's and this seemed like the perfect time to make the trip.
Once I made it through the one way and found the Laurel Point parking lot, I was surprised to see only 3 other cars parked where the trailhead was.
Even after a few more riders showed up after me, I spent the whole session of riding only passing one other rider – and that was early on in the trail!
As well, I was equally as surprised to see that they had two bike stands for maintenance. Something another rider was already utilizing by the time I pulled up.
The drive to the parking area was a pleasant and scenic drive, as you are able to take in views from all angles. However, the one-way to the parking areas can be a tight squeeze, so people with trailers or RV's should be aware.
Another thing to note, especially for Verizon users, is that the wireless signal is not the best once you get started.
Try to download Google Maps before you go to help you navigate during your ride. It doesn't hurt to have a digital copy of the trail map as well.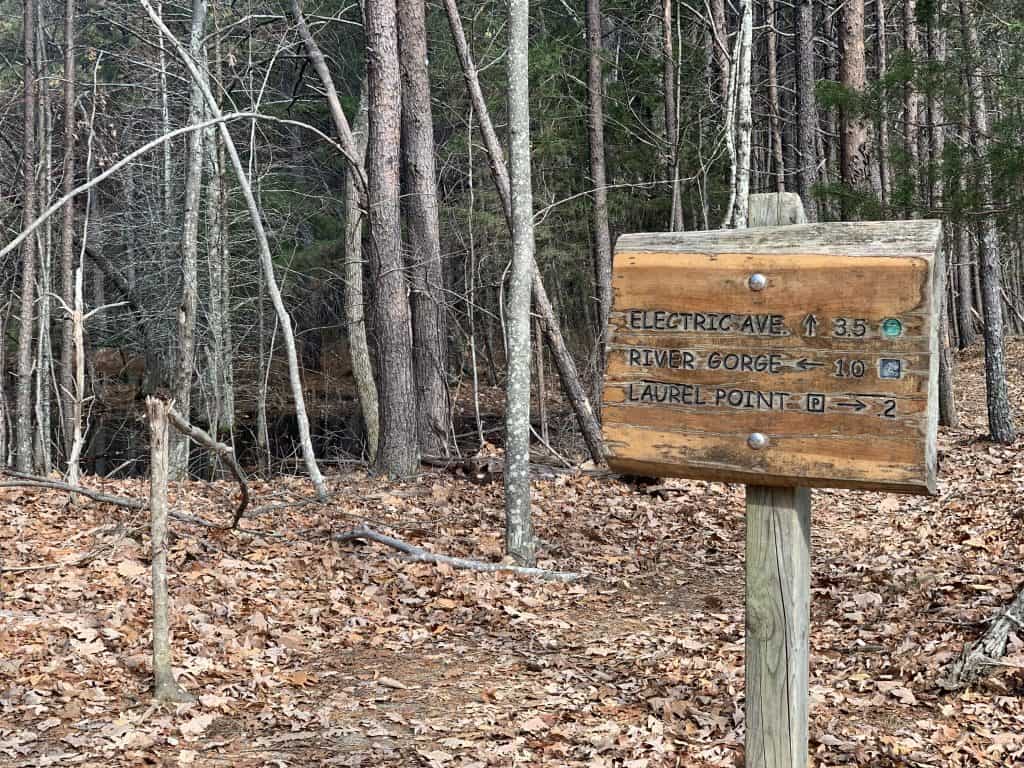 Navigating Raccoon Mountain
Navigating Raccoon Mountain is fairly straight forward and with a download of the Map and a decent sense of direction, you should have no problem at all.
With that being said, here are a few tips and suggestions for getting around:
I recommend parking at the Laurel Point parking area. This gives you access to the restrooms and bike repair stands, not to mention the easiest access to the "beginner" to intermediate trails.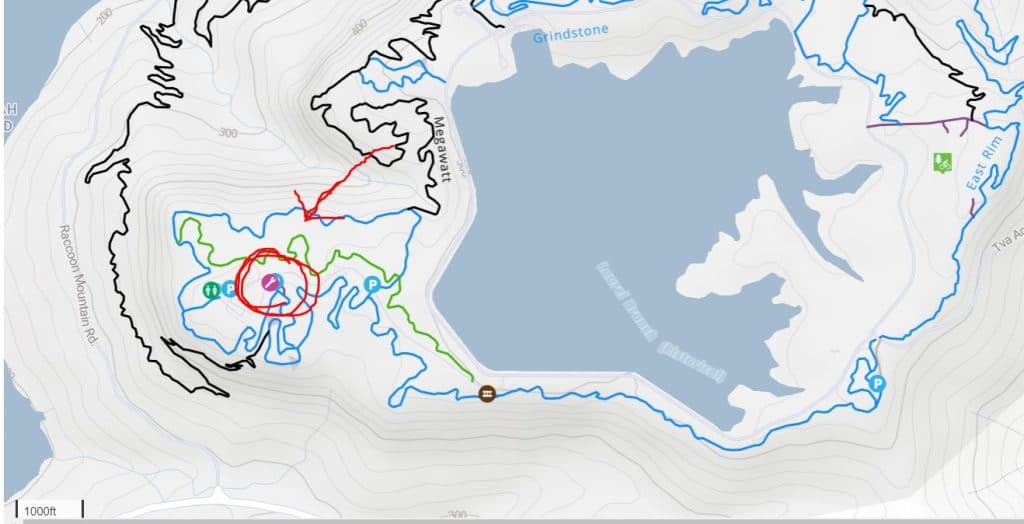 The East Overlook Parking area is also a solid choice, as it has the stunning views and is the quickest connector to Live Wire 1.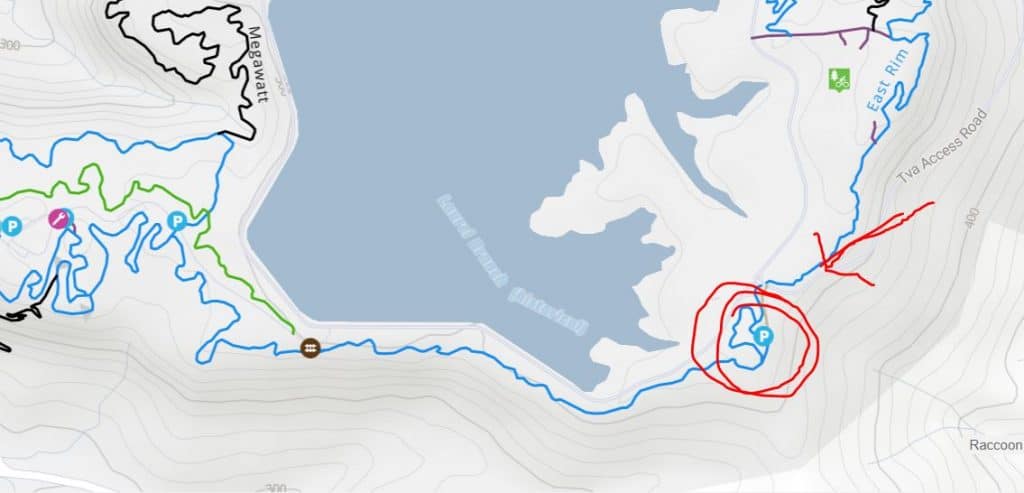 What Do I Need to Ride Raccoon Mountain?
Unlike Enterprise South, Raccoon Mountain is definitely aimed towards the more experienced to advanced riders.
Along with that, there are a few recommendations for your bike and gear if you plan to make the trip.
Like most of Chattanooga's MTB trails, a Hardtail does well here. But that's not to say a Full Suspension won't excel in certain areas, especially on some of the drops and jumps you may end up hitting during the ride. For that reason, as well, we recommend you have a Dropper Post or at least a quick release. Along with the steep climbs, there are some very steep descents that can call for adjusting if you plan on hitting them right.
Regardless if you're running a tubeless setup, everyone should carry an extra inner-tube on their rides. This is really recommended on a trip to Raccoon Mountain, as you will see your fair share of tire ripping roots and rocks. Since the trails can be less forgiving, make sure you also have a basic First Aid Kit and some energy sustaining snacks.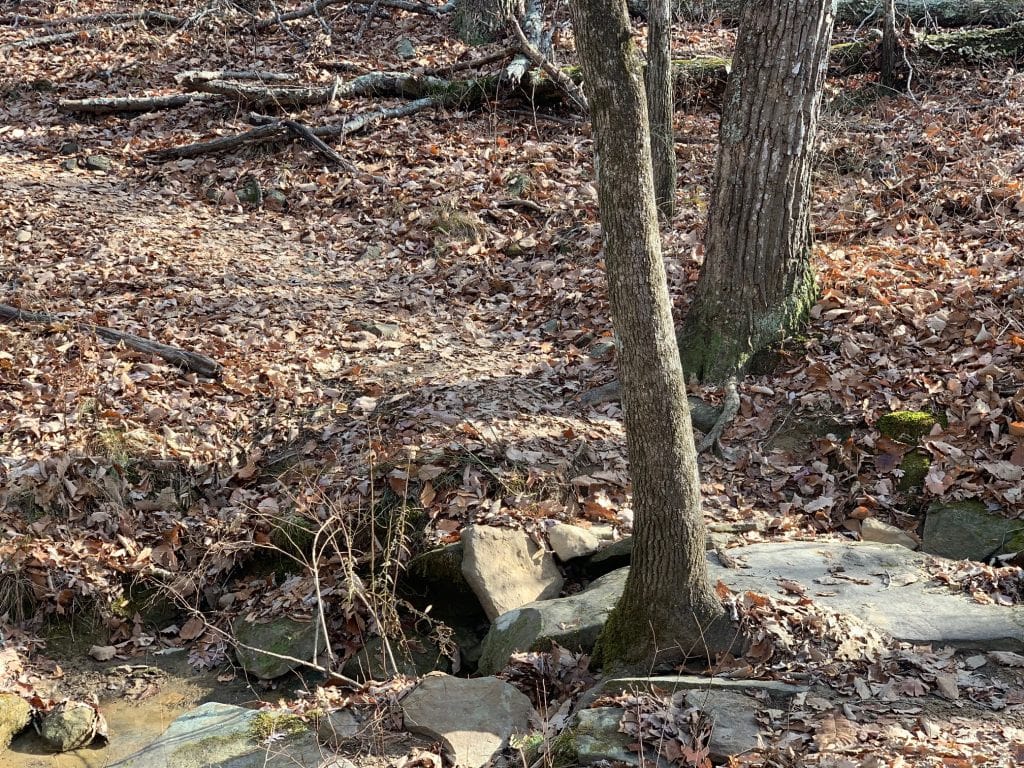 What Are the Trails Like?
The Mountain Bike trails at Raccoon Mountain definitely provide a more raw and natural feel compared to some of the more flow-based trails in the area.
The trails are full of hard packed dirt, technical rock features and unforgiving roots.
With all of the challenge offered, and being a beginner rider, the trails weren't too taxing, and it was relatively easy to maintain a flow.
There is not too much signage to go by, but it was easy to find my way with Google Maps and a pdf of the Trail Map.
For a beginner, I definitely recommend staying towards the top of the mountain, as the skill needed increases as you go further out.
Either way, it is hard to miss a beautiful view as you ride, as they are virtually all around you.
When it comes to recommended rides, I will have to section things off into skill levels.
Like I said before, beginners need to stick with the trails closer to the top of the mountain.
Start with Laurel Point Trail and cross the road to connect to the Tennessee River Gorge Trail. This allows beginners to get a taste of the trail, without getting too far in over their head.
For more advanced riders, the park as basically at your discretion. RootsRated does a good job in this article.
Whether you're seasoned to Mountain Bike trails or not, finding your way around Raccoon Mountain is relatively straight forward.
With that, I'd like to offer a few words of advice.
1. Prepare for one-way roads and a few tight turns if you're in an RV or have a trailer.
2. There are a few bike stands for maintenance.
3. Laurel Point has the only restroom
4. The trails can be very long, with the 30-mile loop taking up to 6 hours, so be prepared.
5. There's a scenic view of the electric hydro-pump if you want to make a quick stop
When is Raccoon Mountain Mountain Bike Park Open?
Just like most Mountain Bike Parks, Raccoon Mountain is open from sunup to around 5:30pm. The sun usually stays out late, even in the winter months, so you should be clear for a full day of riding.
Best Videos of MTB at Raccoon Mountain