Whether you're wanting to conquer the coastline of Big Sur or retreat to the Alpine mountains of Colorado, cycling can take you to some of the most beautiful destinations.
While it can be challenging enough coordinating the time off from work and settling on one of your favorite spots, you're also plagued with one big issue – transporting your bike!
Unless you're lucky enough to have the Colorado trail in your backyard, there's a good chance you're travelling pretty far for your ride.
Aside from all the normal stresses of long-distance travel, you're also worried about transporting your most prized possession – your bike.
And rightfully so – bikes nowadays are really expensive and the maintenance just to keep it running smooth isn't that easy on the pockets either.
Trust me, your concerns for your bike on such a long trip are definitely shared.  
I would be devastated if I saw my bike fall off the bike rack 300 miles into my trip, especially if I'm going 70mph on an unknown interstate. Even worse if you lose the bike and rack together!
So what's the best bike rack for long distance travel?
The best bike rack for long distance travel will be a Hitch Rack. While you may think roof racks are more secure, there are reasons hitch racks and trunk racks are better for long distances. In this article we examine why you may want to choose a hitch rack and offer suggestions on the best bike rack for your long-distance trip. 
How to pick the best bike rack for long distance travel
         As a quick note, most issues of long-distance travel with your bike are solved if you can put the bike in your vehicle. If you can take the wheels off and catty-corner that sucker in the back seat, you're in good shape. For those who can't, this article is for you.
Picking the wrong bike rack for your long-distance trip can ruin the whole experience or cause serious trouble.
We made sure to take all factors into account when compiling this list, but also want to help you understand what to look for in a bike rack.
The rest of this article is dedicated to teaching you how to pick the best option on your quest to find the best bike rack for long distance travel.
If you're thinking about renting a car with a bike rack, make sure you read my article, "where to rent a car with a bike rack?". 
A Quality Bike Rack is a Must for Long Trips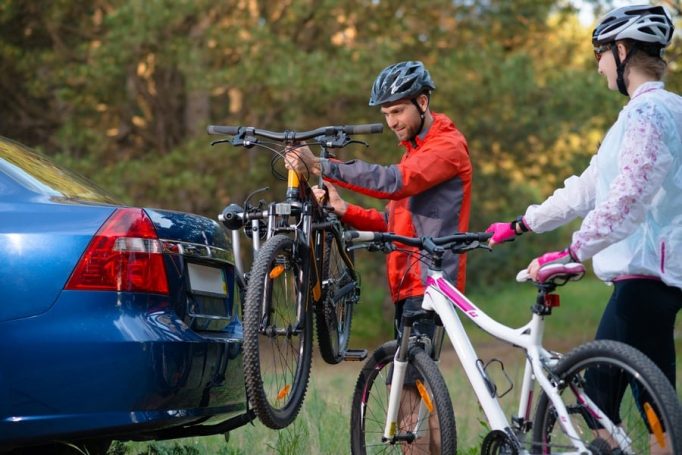 Although you don't need a top dollar bike rack to travel far, a quality bike rack is a must if you plan on travelling long distances.
I'll admit, you don't need some fancy top of the line bike rack to get from A to B.
When I first started riding, I had a hand-me-down, no-name bike rack from VarageSale.
Putting all my extra cash towards the bike, I kind of skimped on the bike rack I used to go pick it up. I was too focused on the bike to think about how I would be moving it from place to place.
I would later realize my mistake when I found no way to strap the actual bike to the bike rack.
While this can be attributed to my own carelessness, I also later found out why I needed to choose a good quality bike rack in the first place.
When you buy a cheap bike rack, you are paying more for the looks than the actual quality and performance.
Manufacturers who produce cheap bike racks will cut costs by using cheaper materials. These cheaper materials often include; the straps that keep your rack and bike secured to the car, the rubber boots that prevent damage to your car, and even the metal that forms the rack itself.
That same cheap bike rack that I had in the beginning, quickly fell apart after a few uses. I had to wrap my bike in a towel after losing one of the rubber caps that kept it from rubbing against metal. I found myself using more and more bungee cords and towels as the days went on.
Shelling out a few extra dollars for a quality bike rack was one of the best choices I made. Not only did I get a huge peace of mind, I also saved more potential money in the long run.
This is why it is so important to have a quality bike rack if you plan on driving long distances with your bike.
Your bike rack is going to see more miles and stress than your average week.
You can't have a bike rack fall apart halfway through your trip and you definitely don't want to cause any damage to your bike or car.
The cost difference between a quality bike rack and a cheap one can seem like a far stretch, but trust me, you will save a lot more money and heartache in the end.
A Bike Rack Must be Secure for long distance trips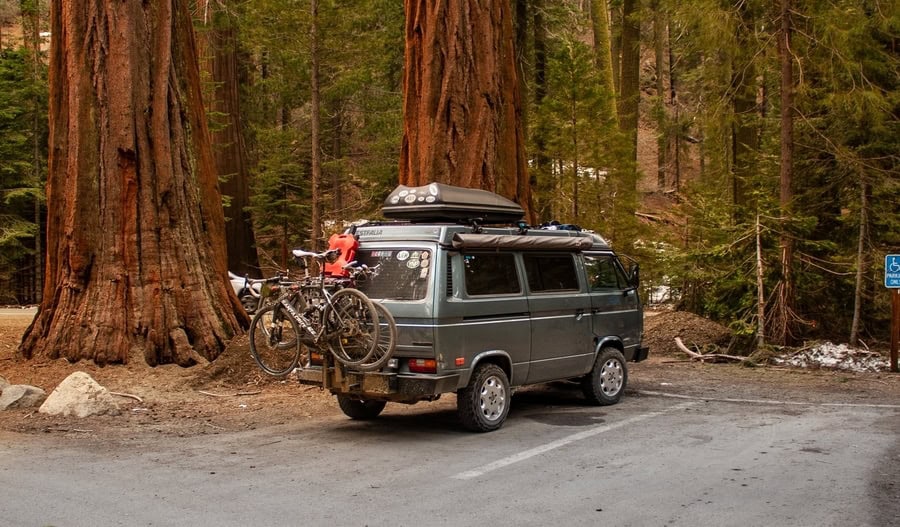 I've been surviving off my inexpensive Allen trunk rack for some time now. It has 6 straps and a wide-enough base to keep my bike stable on all my recent trips around Nashville.
I haven't had any trouble speeding down the highway to my nearest bike shop or heading down the twisty back roads leading to trails.
But I do notice a difference when I'm driving on the interstate.
No matter how tight I have my bike and bike rack against my car, I can definitely feel the wind tugging at 60mph.
Although the sections of interstate that I drive are short, I still feel the need to doublecheck my straps any chance I get.
When you're travelling far distances, you are going to encounter a lot of interstate travel. At speeds of 70mph+ and in windy conditions, you could be nervous about your bike hanging off your vehicle.
To avoid this worry, make sure you buy a rack that connects to the most secure part of your car. For most of us, that means the trailer hitch.
This is one of the main reasons hitch racks are a great bike rack for long distance travel.
If you buy a quality bike rack, and properly connect it to your trailer hitch, you can rest easy that your bikes are safe and secure.
The Bike Rack Has to Protect your Bike during the long trip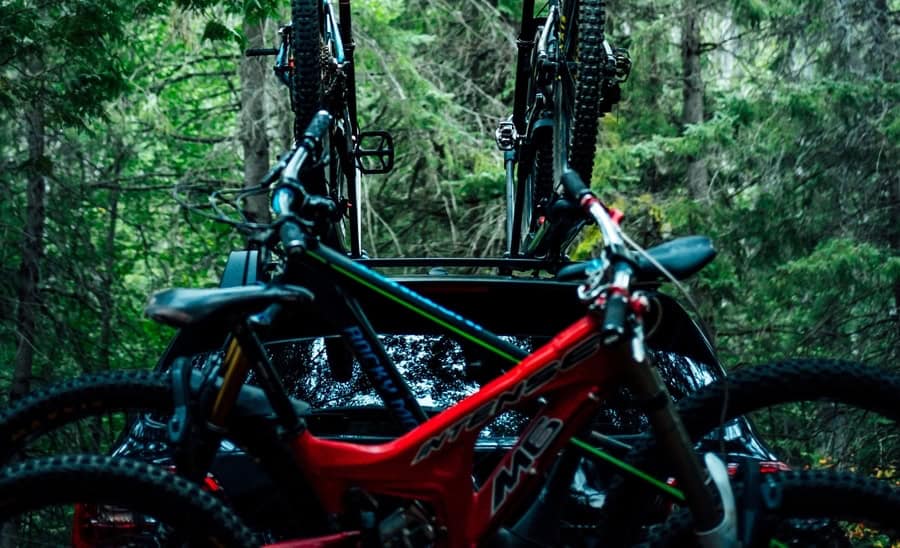 Another problem plaguing riders who take long trips with their bikes, is the fact that your bike is so exposed out on the open road.
No matter how prepared you may be, you can always encounter the unexpected. It could be bad weather, heavy construction, or just a rough trip all together. Although you can't protect your bike from everything, you should always try to manage the things you can control.
Fortunately, picking a quality bike rack is a great first step in making sure your bike gets from one place to the other without damage.
That is why we recommend Hitch and Trunk racks for long distance travel.
When you're driving long distances, your bike can take a beating. All those extra miles mean extra road debris and bugs hitting your bike. On top of that, the force of the wind could have you thinking your bike can fly away at any moment.
When you use a hitch rack, you put your bike behind your vehicle. Your vehicle then acts as a shield, blocking anything that would otherwise blast your bike.
With a bike rack that puts your bike behind the car, you don't have to worry about damage on such a long trip.
Most importantly, your bike rack must make sure your bike does not rub or bump against something during the trip.
No matter how well you have your bike or rack secured, you are going to be bouncing around out there on the road. If your bike is touching something else, even the slightest bump can cause a scratch or chip.
When traveling long distances with your bike, make sure you have a bike rack that keeps your bike separated no matter what.
A Roof Rack is not Recommended for long distance travel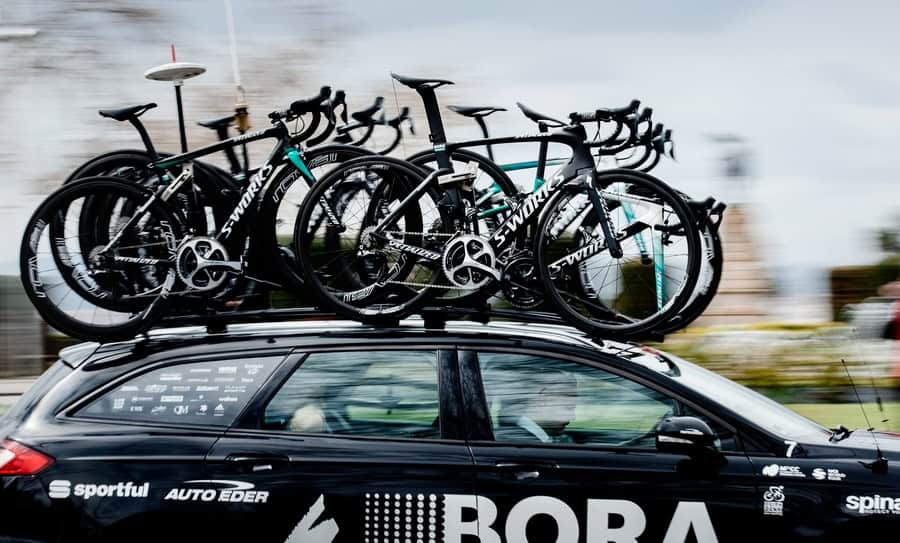 Judging by the last few paragraphs, you can see why we don't recommend roof racks for long distance trips. But just in case you need a little more convincing, here is why.
Roof racks may seem like a good choice for long distance travel. They're very secure, relatively versatile, and they look pretty cool.
But we do not recommend roof racks for long trips, as there are a few deal breakers.
First, roof racks do not protect your bike too well when you're on the road. You can catch a lot of road debris, bugs, and even birds. Not to mention, it's easy to forget that you have really tall bikes on your car when you're going under bridges or entering garages.
Another huge problem with roof racks, is the amount of wind your bike is going to catch while it on top of your car.
While roof racks are pretty secure, a huge gust of wind could have you thinking otherwise. And when you're going far and really fast, the extra resistance puts unnecessary stress on everything from the bike to your car.
That extra wind resistance will also show when it comes time to get gas. While the per mile loss could be minimal, those miles will add up quickly on a long-distance trip.
A Locking Bike Rack is recommended
Not really a must, but still something we recommend, a bike rack suited for long distance trips should have a locking feature.
Not only will you appreciate a bike rack that locks to your vehicle, but also a bike rack that allows you to lock your bike to the rack itself.
When you have a long journey ahead, you also have to plan quite a few stops along the way. Whether you're stopping for a quick bathroom break or staying overnight for a good night's rest, you're not always going to be in eye shot of your bike and bike rack.
Instead of rushing in the bathroom or getting window seats at every restaurant along the way, you can ease your mind with a locking bike rack.
I'm not saying that you have to be on the lookout for bike thieves, it's just a good idea to have your bike secure.
A few tips for long distance travel with your bike
Buying a quality bike rack should be enough to keep your bike safe on a long trip, but there are a few extra tips I'd like to leave you with.
Prepare for Weather

– On a long-distance trip, there's a good chance you will encounter some unexpected weather. Make sure you have a way to cover your bike if things get too out of hand, or at least prepare to make frequent stops to check on the rack and bike.

Wash and lube your bike once you arrive

– Your bike will likely accumulate some dirt and grime along the way. As well, the wind can be pretty hard on your lubricated parts. Make sure you take breaks to clean the bike and also give it a thorough cleaning and inspection once you arrive.

Remove wheels to reduce drag

– There's a good chance you're reading this post because you can't fit a bike in your car. But you may be able to fit a bike wheel somewhere in your vehicle. If so, it is recommended, as you will severely reduce drag and the bike rack will feel lighter in general.

Flag your Bike Rack

– You can still be rear-ended with a bike rack hooked to the back of your car, in fact, it's quite common. As a safety precaution, try to flag your bikes or bike rack with some type of marker or reflector.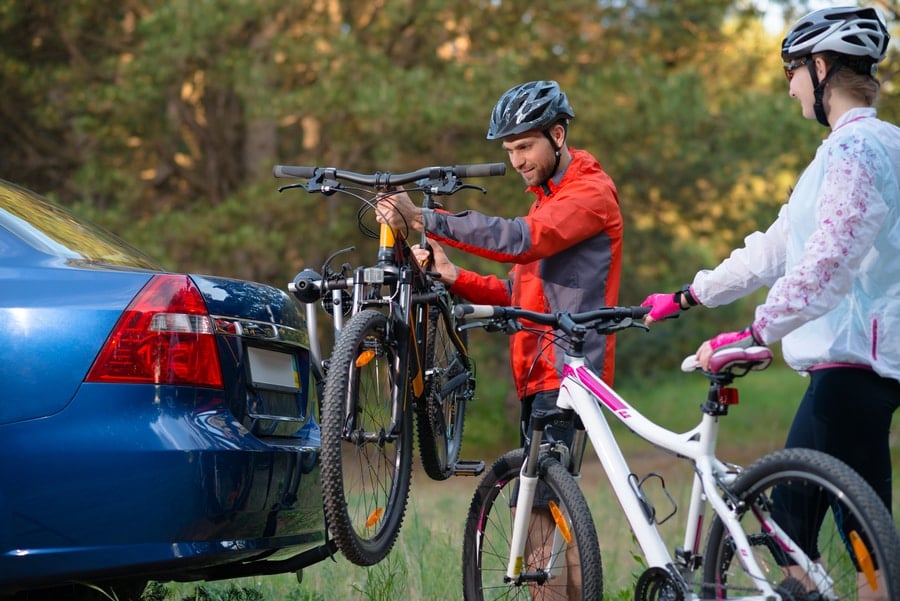 In conclusion, the best bike rack for long distance travel is a one that gives you peace of mind and allows you to transport your bikes safely. If you have any questions or recommendations, please comment below.